Chinese customs have apprehended a man attempting the biggest on-the-person CPU smuggling feat we have seen reported. The perp was stopped at Qingmao Port as he sought to cross from Macau to mainland China with 306 CPUs fashioned into a girdle around his waist.
According to China's People's Daily, the smuggler gave himself away as he "was walking in an abnormal posture." We aren't surprised if the smuggler wasn't comfortable, as 306 CPUs weighing 50 g per unit would be over 15 kg (about 33 pounds). Moreover, we have to factor in paper and tape packaging materials, as shown in the images.
Another report on this smuggling attempt, posted by Hong Kong's On News, says that the male passenger didn't just wear the CPU 'girdle' around his waist. Some of the 306 CPU payload was taped to his legs. In the images, you can see the slim passenger wearing a black loose-fitting sports shirt. The topmost image shows the shirt rolled up from the waist.
None of the sources mention the CPU brand or models that were taken from the smuggler. However, there is quite a clear image of two customs officers inspecting the CPU haul. Zooming into this image, we can see that a 12-pack of CPUs has been unwrapped. We aren't quite close enough to be confident enough to identify these chips, but they may be AMD Ryzen 7000 series CPUs, as they appear to sport the characteristic 'octopus' IHS.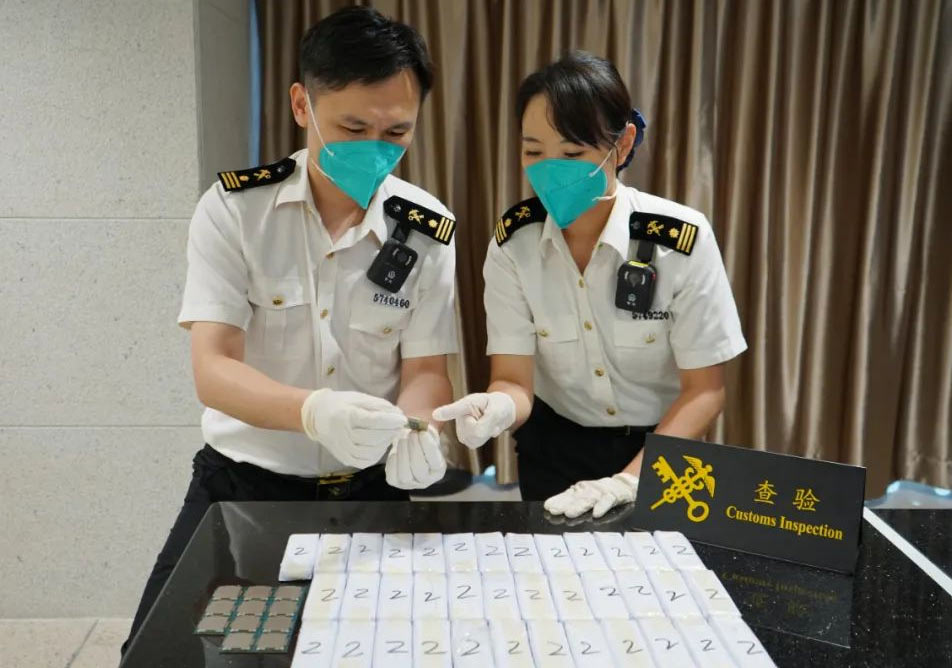 Of course, it isn't illegal to take CPUs from Macau (or Hong Kong) to the Chinese mainland. These apprehended smugglers, though, have attempted to sidle through the 'non-declaration channel' at the customs border. People are attracted to the risky business of smuggling tech into the mainland due to the tax differential, as we have mentioned before. Chinese mainland VAT on consumer goods is normally 13%, while the Hong Kong and Macau Special Administrative Regions benefit from zero VAT.
Reports of apprehensions like the above, also widely shared in Chinese language media, don't seem to have inspired smugglers to up their game. Earlier this week, we reported upon an equally dumb tale of a hardware trafficker that tried to sneak 420 M.2 SSDs into China (from Macau, again). Other CPU smuggling failures we have reported upon in recent months include a man with about 160 Intel CPUs taped to his body, and the more inventive but failed attempt to smuggle 202 Intel CPUs inside a prosthetic pregnancy belly.