Today, Seagate has officially released its newest line of FireCuda family SSDs. The FireCuda 540 PCIe Gen5 M.2 SSDs are claimed to be "50% faster than Gen4 M.2 NVMe drives and 17 times faster than SATA-based SSDs," with data transfers of up to 10,000 MB/s possible thanks to a mix of advanced technologies. Seagate says the FireCuda 540 drives are available now, priced at $179.99 / £199.90 (1TB) and $299.99 / £329.90 (2TB).  
Seagate FireCuda 540 PCIe Gen5 M.2 SSDs target "pro-level gaming and accelerated content creation," the storage firm claims. The performance on offer here stems from the use of the fast new PCIe Gen5 interface, a Seagate-validated E26 controller, and new 3D TLC NAND.
Swipe to scroll horizontally
| Seagate | FireCuda 530 | FireCuda 540 |
| --- | --- | --- |
| Interface | PCIe Gen4 | PCIe Gen5 |
| Form factor | M.2 2280 | M.2 2280 |
| Max transfer | 7,300 MB/s | 10,000 MB/s |
| Durability | 1,275 TBW, 1.8M MTBF | 2,000 TWB, 1.8M MTBF |
We don't have any further technical data for the Seagate FireCuda 540, as the product page / data sheets are yet to be published. There is also a discrepancy between the press release and Amazon product pages, with one saying the top capacity available is 2 TB, while the other says that this new generation of drives is available in up to 4 TB. We reckon the truth might be that only 1 and 2TB versions will be available initially, with 4 TB models arriving in their wake.
Seagate's claim that the new FireCuda 540 drives are up to 50% faster than previous-gen drives also isn't quite accurate, as a 50% uplift from 7,300 MB/s (FireCuda 530) should be 10,950 MB/s – not 10,000 MB/s.
In addition to the Seagate-validated SSD controller on board, another interesting claim is that the FireCuda 540 series uses a DirectStorage optimized firmware for "an enhanced PC gaming experience." We would be keen to verify and test such a benefit. However,note that there have been some recent announcements of PCIe Gen5 SSDs with significantly faster raw transfer speeds touted.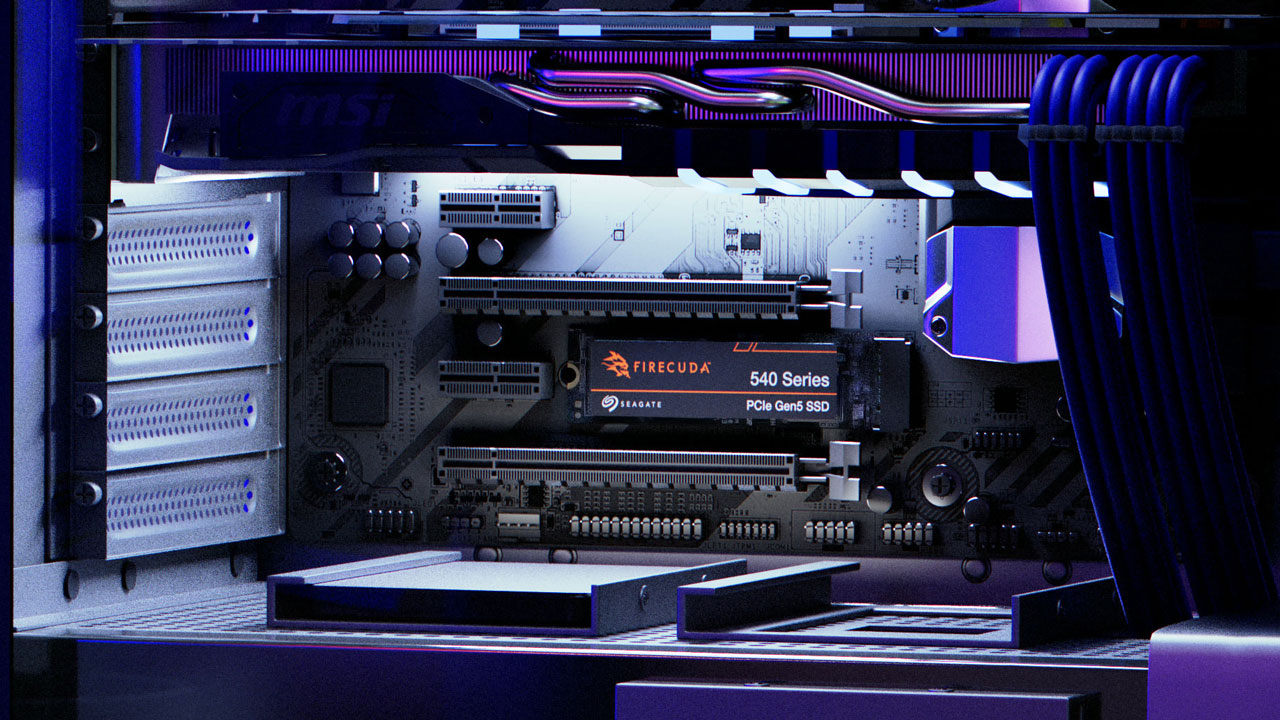 At the time of writing there were no live listings of the FireCuda 540 at the Seagate Amazon US store for internal SSDs, so we would expect them to arrive in a day or two. We did see the 1 and 2 TB versions listed on Amazon UK as out of stock, but the advertised prices were an inflated £240 and £368, respectively. Remember, they should be $179.99 / £199.90 (1TB) and $299.99 / £329.90 (2TB).  
If you think you may want a new SSD soon, take a look at our frequently updated and comprehensive best SSDs of 2023 guide.