A seasoned Twitter-based hardware leaker has shared a screenshot which seems to show the results of an Intel Core i7-14700K put through a trio of benchmarks. WXnod shared a screenshot a few hours ago, without comment, and in it you can see that the supposed Raptor Lake Refresh chip has been tested in AIDA64, Cinebench, and CPU-Z. Compared to its predecessor, the Core i7 13700K, the new chip appears to be as much as 20% faster in multi-threaded workloads.
The Intel Core i7-14700K is a expected to be a particularly interesting member of Raptor Lake Refresh as, according to the latest information, it is unique in delivering a reconfigured core spec. To explain that, while its predecessor offered an 8P + 8E core configuration, the refreshed model is rumored to come with 8P + 12E. WXnod's leak has all core configuration details blurred out, for some reason. However, fellow Twitter hardware tipster Harukaze5719 has ridden to our rescue, augmenting this leak with a Baidu-sourced screenshot complete with core configuration data. See below.
Working through the on-screen data, we can see that the chip which is under is identified by the software as a Raptor Lake-S model, for the LGA 1700 socket, fabricated using 10 nm lithography (Intel 7), which boosts up to 5.5 GHz in this example, and has a TDP of 125W.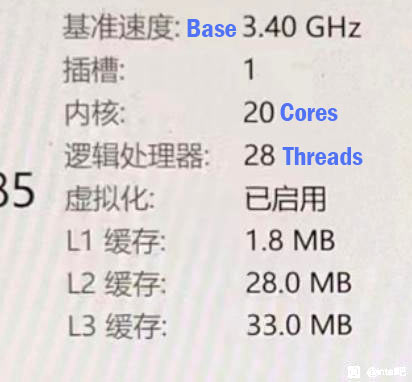 The screenshot purportedly shows that the Intel Core i7-14700K offers a base clock of 3.40 GHz, and a core configuration detected as offering 20C / 28T. This fits with 8P + 12E cores (16 + 12 threads).
Circling back to the original info spill from WXnod, we have to assume that the benchmarks are genuine, accurate and representative (but taken with a pinch of salt), and create a comparison table. Data for the Core i7-13700K comes from our review (linked) and online databases. 
Swipe to scroll horizontally
| Intel Core | i7-13700K | i7-14700K |
| --- | --- | --- |
| AIDA64 read (GB/s) | 94 | 113.7 |
| Cinebench 1T | 2107 | 2192 |
| Cinebench nT | 30880 | 36296 |
| CPU-Z 1T | 864 | 908 |
| CPU-Z nT | 12430 | 14988 |
From the memory test results (AIDA64) we can see an alleged and significant uplift in bandwidth, but this could be helped by a system with a newer motherboard and different RAM module choices. Moving onto Cinebench, and while single-core tests aren't much different, the expected extra cores / threads in this Raptor Lake Refresh CPU show their worth. The same can be said for CPU-Z 1T and nT processor testing. At best, the processor multithread tests show that the i7-14700K is 20.6% faster in CPU-Z, and up to 17.5% faster in Cinebench, compared to the previous gen CPU.
If you are running an Intel socket LGA 1700 system and could be tempted to upgrade to a Raptor Lake Refresh chip, you shouldn't have to wait a very long time, as the 'K' chips are tipped to arrive in mid-to-late October. However, there are indications that the Core i7-14700K (in particular) might need users to apply a BIOS update, to get it working correctly.