The James Webb Space Telescope has captured an image of a stunning cosmic collision. 
The Milky Way-sized galaxy NGC 3256 lies about 120 million light-years away in the constellation Vela.
The European Space Agency and NASA said that it was estimated to have formed 500 million years ago, with the intermingling of dust and gas from the impact of the two massive spiral galaxies that sparked star formation. 
The distorted galaxy's infant stars shine most brightly in infrared light and long tendrils reveal its turbulent past. 
HUBBLE TELESCOPE SPIES SPARKLING IRREGULAR GALAXY 11 MILLION LIGHT-YEARS AWAY
The red and orange spread across the image contain such stars, creating small dust grains. 
Extended tidal features are also captured, including stars pulled out of the galaxies upon their crash.
Notably, when galaxies collide, clouds of stars pass through one another like clouds of smoke. 
ASTRONOMERS USING NASA JAMES WEBB SPACE TELESCOPE DISCOVER AN INTERCONNECTED WEB OF GALAXIES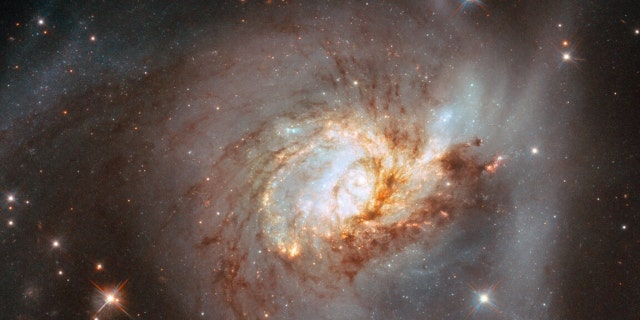 However, comparatively, gas and dust interacts with stunning results. 
This image contains data from Webb's Near-Infrared Camera and Mid-Infrared Instrument,
Previous observations of the galaxy with the Hubble Space Telescope revealed the collision at visible wavelengths.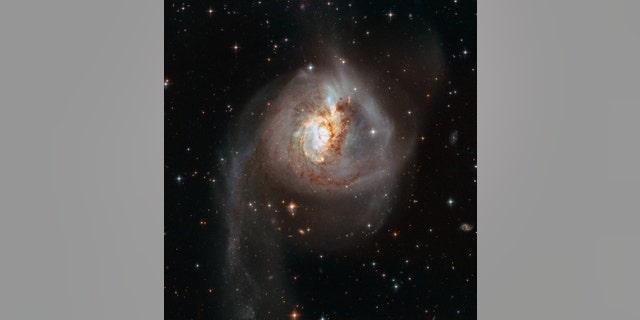 An image from its Advanced Camera for Surveys and Wide Field Camer 3 showed the dark threads of dust and molecular gas around the centers of the galaxies in detail, as well as the hot stars that give the core a blue hue.
CLICK HERE TO GET THE FOX NEWS APP 
Capturing luminous infrared galaxies like NGC 3256 will aid astronomers' understanding of how the James Webb Space Telescope can unravel the complex histories of nearby star-forming galaxies.