Rock Lobster? More like Crab Walker. Don't be fooled, though. This baby isn't a Chrysler, it's nowhere near as big as a whale, and sadly, it won't carry 20 of your closest friends to your next beach bonfire. Yet wait until you hear what it can do.  
CLICK TO GET KURT'S FREE CYBERGUY NEWSLETTER WITH SECURITY ALERTS, QUICK TIPS, TECH REVIEWS AND EASY HOW-TO'S TO MAKE YOU SMARTER 
While not quite roomy as your love shack, Hyundai's new concept vehicle certainly knows how to get around town. And the best part? It promises an end to the dreaded parallel parking. 
From rock lobster to crab walker 
You heard that right. Hyundai's new EV takes a sideways approach to city driving, literally. This electric daredevil maneuvers in a way that would make even a crab blush. Imagine effortlessly sliding into that tight parking spot on a bustling city street. No more inching back and forth, praying you don't tap the cars in front and behind you. This car simply sidles right in. 
HEARD OF A TINY HOUSE? MEET THE MICRO RV
Hyundai recently shared a video of this sideways sensation in action, demonstrating the car's "crab mode." A feature that allows the vehicle to move sideways by independently controlling each wheel. This isn't just a flashy gimmick; it's a practical solution to a common urban driving headache. 
Crab mode: the future of urban mobility? 
Now, if you're thinking, "Didn't I see this on a Hummer EV?" Well, you're not wrong. General Motors did introduce a similar feature in their electric Hummer. However, Hyundai's bringing this crab-walking capability to a more compact and eco-friendlier model. Talk about putting a new spin on things. 
MORE: SHOULD A FOURTH LIGHT BE ADDED TO TRAFFIC SIGNALS FOR AUTONOMOUS CARS? 
Hyundai's crab-walking car is eco-friendly and fun 
This crab-walking feature isn't the only thing that makes this vehicle a catch. It's all-electric, meaning it's not just doing wonders for your parallel parking skills but also for the environment. Hyundai hasn't spilled the beans on the specifics yet, although knowing them, we can expect competitive range and charging capabilities. 
While this crab-walking car is still just a prototype, it's an exciting peek into what Hyundai has in store for us. It's not just about creating efficient and eco-friendly vehicles; they're also looking to sprinkle in some unexpected fun and functionality. 
FOR MORE OF MY TECH TIPS & SECURITY ALERTS, SUBSCRIBE TO MY FREE CYBERGUY REPORT NEWSLETTER BY HEADING TO CYBERGUY.COM/NEWSLETTER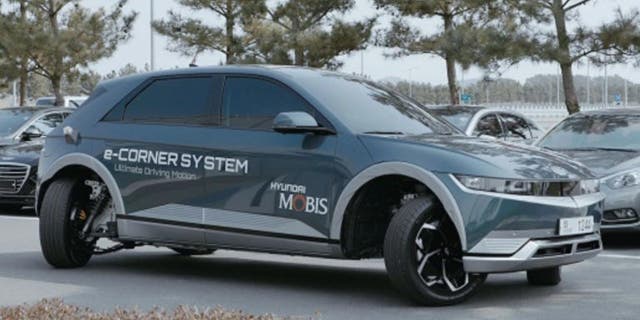 MORE: 5 SIMPLE AND EASY WAYS TO DOGPROOF YOUR HOUSE AND CAR 
Kurt's key takeaways 
So, are we ready to trade our Rock Lobsters for Crab Walkers? With Hyundai leading the sideways revolution, it's time to start practicing our crabwalk. After all, who wouldn't want to shimmy their way out of parallel parking? 
Do you consider yourself a parallel parking king or queen, or do you think Hyundai's new parking feature will make your life much easier? Let us know; we'd love to hear from you by writing us at Cyberguy.com/Contact 
CLICK HERE TO GET THE FOX NEWS APP
For more of my tech tips & security alerts, subscribe to my free CyberGuy Report Newsletter by heading to Cyberguy.com/Newsletter 
Copyright 2023 CyberGuy.com.  All rights reserved.