One of my favorite trends among the best gaming laptops in the last several years has been that companies are making laptops that are less ostentatious. The HP Omen 16 ($1,449.99 to start, $2,809.99 as tested) is an all black gaming PC that looks like it could get down to business, but with the power to play games with its Intel Core i7-13700HX and Nvidia GeForce RTX 4080 Laptop GPU.
You get decent performance from the RTX 4080, though as we'll soon discover, other vendors use higher-power versions of that GPU that perform better in some games.
Those who value a sleek notebook without tons of angles and red stripes will want to keep an eye on the HP Omen 16. But it could feel a bit more premium with a nicer touchpad and less bloatware. 
Design of the HP Omen 16
HP has made minor changes to the Omen 16 since it first released last year. The 2023 model, however, has a few aesthetic differences and also plays around with port placement.
HP has ditched its diamond Omen logo on the lid, instead focusing entirely on the name brand. It's fine, I guess. I actually prefer the diamond, as I think it looks nicer than the word "Omen" in a large font, but this is fairly inoffensive.
The plastic construction is still similar, and still plain. And I like it, too. Not every gaming laptop needs to scream in RGB lights and red stripes.
Admittedly, lifting the lid does reveal some of the Omen 16's gaming prowess. The 16.1-inch screen, with a chunky bezel (especially at the bottom), might not be the evidence, but the RGB keyboard sure is. There's also a militaristic "16" on the bottom of the wrist rest, which looks a bit chintzy.
There are ports on both sides and on the rear of the laptop. The left side has two Thunderbolt 4 ports and a headphone jack, and the right side has a single USB Type-A port. On the back, there's an Ethernet jack, HDMI 2.1 port and another USB Type-A port. Last year, HP had three USB Type-A ports, but it lost one this time around, seemingly in favor of moving the Thunderbolt 4 ports to the sides and the Ethernet jack to the back. But HP also suggests that there are larger exhausts for airflow on the sides and back. Seemingly, to allow more hot air out, a port had to go.
The Omen 16 weighs 5.4 pounds and measures 14.53 x 9.76 x 0.89 inches. That's the same weight as the Razer Blade 16, which is slightly smaller (13.98 x 9.61 x 0.87 inches). The Alienware x16 is 5.9 pounds and 14.36 x 11.41 x 0.73 inches, while the MSI Raider GE78 HX is the biggest of our comparison group, at 6.83 pounds and 14.96 x 11.73 x 1.13 inches.
HP Omen 16 Specifications
Swipe to scroll horizontally
| | |
| --- | --- |
| CPU | Intel Core i7-13700HX |
| Graphics | Nvidia GeForce RTX 4080 Laptop GPU (12GB GDDR6, 145W max graphics power, 1,665 MHz boost clock) |
| Memory | 32GB DDR5-4800 |
| Storage | 2TB PCIe Gen 4 SSD |
| Display | 16.1-inch, 2560 x 1440, 240 Hz, IPS  |
| Networking | Intel Wi-Fi 6E AX211, Bluetooth 5.3 |
| Ports | 2x Thunderbolt 4 over USB Type-C, 2x USB Type-A (5 Gbps), 3.5 mm headphone jack, HDMI 2.1, Ethernet jack |
| Camera | 1080p with privacy shutter |
| Battery | 83 WHr |
| Power Adapter | 280W |
| Operating System | Windows 11 Pro |
| Dimensions (WxDxH) | 14.53 x 10.21 x 0.93 inches (369.32 x 259.33 x 23.62 mm) |
| Weight | 5.4 pounds (2.45 kg) |
| Other | HyperX Cloud II Core wireless gaming headset included |
| Price (as configured) | $2,809.99 |
Gaming and Graphics on the HP Omen 16
On paper, the HP Omen 16 is a strong performer, with an Intel Core i7-13700HX, Nvidia GeForce RTX 4080 Laptop GPU, 32GB of DDR5 RAM, and a 2TB SSD.
When I played Redfall at native resolution with Nvidia's DLSS quality upscaling and frame generation, the Omen 16 ran the game between 100 and 130 frames per second, with a couple of skips below that range. As two vampires jumped me in a supper club, combat hovered around 120 fps. (With upscaling disabled, I saw closer to 70 fps).
Two of the laptops we compared the Omen to also have RTX 4080 Laptop graphics: the Alienware x16 and the MSI Raider GE78 HX. But both of those competing systems have higher boost clocks than the Omen (2,280 MHz to HP's 1,665 MHz) and use more power (while the Omen's GPU uses 145W, the Alienware needs 150W and the MSI sucks 175W). That may explain some performance differences we saw in certain games. Not every RTX 4080 is the same. Meanwhile, the Razer Blade 16 packs an RTX 4070 Laptop GPU into its thin chassis.
On Shadow of the Tomb Raider (highest settings), the Omen hit 117 fps at 1080p and 79 fps at its native 2560 x 1440. Here, it actually performed on par with the Razer Blade at 1080p, but the Alienware and MSI's more powerful 4080's outperformed at both 1080p and a higher-resolution native 2560 x 1600.
HP's gaming laptop ran Grand Theft Auto V on very high settings at 126 fps at 1080p and 78 fps at 2560 x 1440. Both the Raider and Alienware were faster, at over 150 fps at 1080p, as well as at 1600p.
The Omen 16 fell in line with the Alienware on Far Cry 6, at ultra hitting 98 fps at 1080p and 83 fps at 1440p, while the Alienware reached 97 fps at FHD and 86 fps at its native 1600p. The MSI still outperformed.
Red Dead Redemption 2 is a difficult benchmark, even on medium settings. The Omen 16 notched 85 frames per second and 56 fps at its native 2560 x 1600. That's slightly ahead of the Razer Blade 16, but the other RTX 4080 machines beat the Omen in both FHD and their native resolutions.
The Omen fell into the usual pattern on Borderlands 3, again beating the Blade at 1080p, but falling far behind the Alienware and the MSI.
To stress test the Omen 16 and check for throttling, we ran the Metro Exodus benchmark 15 times in a row, simulating half an hour of gaming. The Omen averaged 85.47 fps and was fairly stable across runs, only getting as high as 86.25 fps on the first run. The last run was the lowest, at 84.95 fps.
The Core i7-13700HX's performance cores averaged 3.1 GHz during the stress test, while the efficiency cores ran at 2.33 GHz. The CPU package measured 74.67 degrees Celsius. The RTX 4080, meanwhile, averaged 1,334.5 MHz and measured 72.49 degrees Celsius.
Productivity Performance on the HP Omen 16
It didn't come as a huge surprise that the Omen, configured for review with an Intel Core i7-13700HX, 32GB of RAM and a 2TB SSD, offered a strong showing on our productivity benchmarks. It didn't do as well as laptops with Intel's Core i9-13950HX processors like the MSI Raider GE78 HX and Razer Blade 16 or the Alienware x16 and its Core i9-13900HK, but that's to be expected, and the differences weren't always huge. Those i9 laptops are also more expensive.
On Geekbench 6, the Omen put up a single-core score of 2,469 and a multi-core score of 13,940. The other laptops put up higher scores, especially in multi-core, but you'll see in our chart that the single-core scores, while greater, weren't always a huge difference.
The Omen's 2TB SSD was the fastest on our file transfer test, copying 25GB of files at a rate of 1,989.70 MBps. The Alienware was close at 1,923.59 MBps, while the others were a few seconds behind.
On Handbrake, the Omen 16 transcoded our 4K test video to 1080p in 4 minutes and 29 seconds. That's behind the Razer Blade and MSI Raider (tied at 4:08 each), while the Alienware came in last at 4:50.
Display on the HP Omen 16
HP has stuck with a traditional 16:9 screen on its Omen 16, even as much of the rest of the market is moving to taller 16:10 displays (another Omen laptop, the Omen Transcend, does use a 16:10 screen). This Omen has a 16.1-inch IPS display, with 2560 x 1440 resolution and a fast 240 Hz refresh rate.
I watched the Barbie trailer in 1440p (yes, it's in YouTube at this laptop's native resolution!), and the bright pink colors came across nice and bright on the Omen's display. A green hill with different shades of emerald vegetation popped on the blue sky.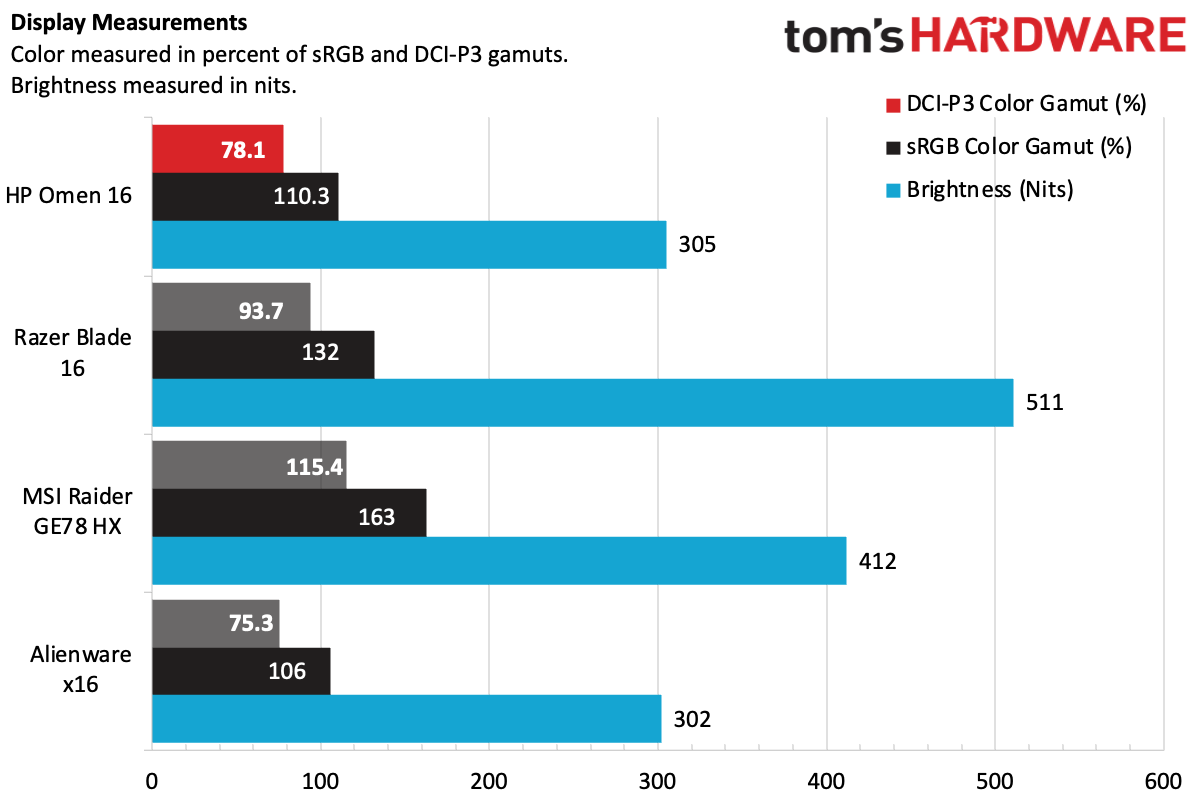 In contrast, Redfall is a dark game, but the Omen's strength was in showing the game's emphasis on the color red. That included in menus, red smoke throughout the game, and in leaves that fell around the town. Layla's purple umbrella shield popped when I launched it to block projectiles.
On our light meter and colorimeter, the HP Omen's display wasn't quite as nice as what you could get on some other laptops, but was slightly ahead of what Alienware offered.
The Omen 16's screen covers 78.1% of the DCI-P3 color gamut and 110.3% of the sRGB gamut. The Alienware x16 covered 75.3% and 106% of those gamuts, respectively. Both the Razer Blade 16 and MSI Raider GE78 HX covered wider gamuts (the Blade has a mini-LED display and costs much more).
The Omen and Alienware were close on brightness, too, with the Omen reaching 305 nits and the x16 hitting 302 nits. The Blade 16 was the brightest at 511 nits.
Keyboard and Touchpad on the HP Omen 16
The keyboard on the 16-inch Omen is offset to the left, with detached arrow keys and a cluster for insert, home, page up, page down, a dedicated calculator key, and a button to launch the Omen Command Center app. Depending on the configuration you get, there's single-zone white backlighting or four-zone and per-key RGB lighting. Ours came with the fanciest option.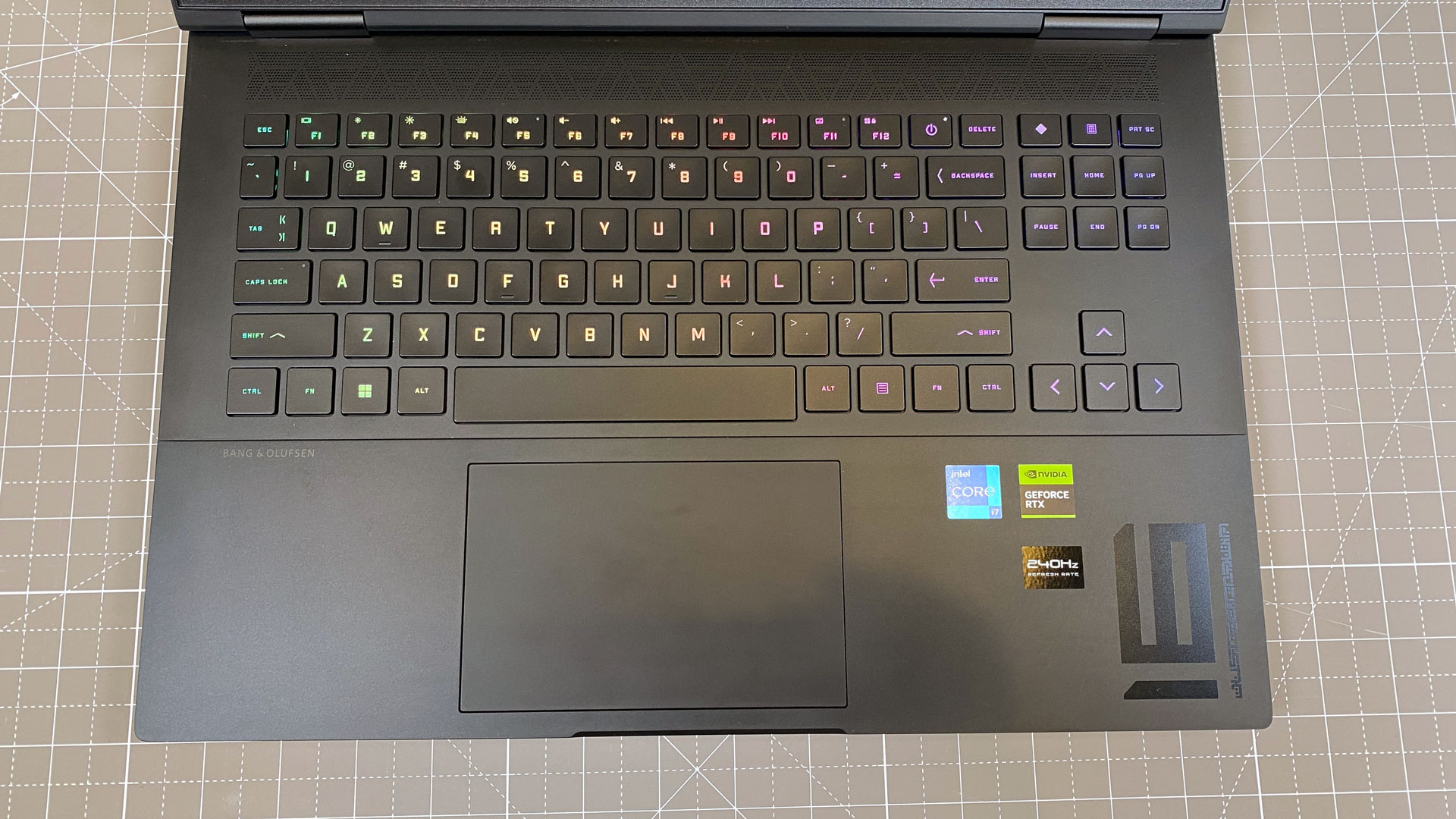 The keys are slightly smaller than I'm used to, particularly with short caps lock and enter keys. I was able to move past this in short order, eventually hitting 120 words per minute on the monkeytype typing test with a 98% accuracy rate.
The touchpad is large, especially for a gaming notebook, which is nice for when you're using the Omen for tasks other than gaming. But I found the click to feel both hollow and shallow, which isn't a great combination. There was also a bit of flex around the top of the touchpad when I clicked higher than the very bottom.
Audio on the HP Omen 16
HP's continued partnership with Bang & Olufsen on speakers has made its way to the HP Omen 16.
Dashboard Confessional's "Vindicated" has clear guitars and keys backing up the vocals, though there was a lack of bass (which is common, unfortunately, in laptops). I did find that at the loudest volumes, the sound could get a bit distorted, but I didn't need to set it that high to fill my apartment with sound.
In Redfall, the audio (like vampires hissing at me and Layla joking as I adventured solo through the town) was solid. Some background music was quiet, but firefights sure weren't.
I was surprised to see that there wasn't an audio program preinstalled to tune the speakers to my liking. HP usually includes one. Perhaps it instead hopes for people to use a HyperX headset (one was included with our review unit, see the configuration section, below) and the HyperX Ngenuity software.
Upgradeability of the HP Omen 16
There's plenty of opportunity to upgrade the components in your HP Omen 16 down the line.
To get the bottom cover off, there are eight Phillips head screws to remove (you can use the same P1 driver bit for all of them). The front four are very tiny, while the back four are slightly longer, so be sure to keep them separate.
In its maintenance video, HP recommends opening the clamshell and pushing on the wrist rest to help release the base. I'd never seen anything like that before, but I did it! Couldn't hurt. Doing it helped release one of the corners, though I wasn't thrilled about flexing the keyboard with my fingers.
From there, when you close the laptop again, you'll still need to pry as usual. That freed corner helped, and while some of the base came off with my fingers, having a guitar pick tool helped remove the rest of the base.  
Both RAM slots are available — nothing soldered here — and there are two PCIe slots for SSDs. Those SSD slots have heat shields held on with two additional Phillips head screws each. Only one of our slots was filled, so someone who bought our configuration could easily add more storage down the line.
The networking card is also replaceable (albeit at a slightly diagonal angle, but nothing you can't reach), as is the battery. I appreciated that the battery was labeled with a part number to search for when buying a replacement.
Battery Life on the HP Omen 16
The Omen 16 lasted for 4 hours and 8 minutes on our battery test, which browses the web, streams videos and runs OpenGL graphics tests. That's longer than the MSI Raider, which ran for 2:32, but both the Alienware x16 and Razer Blade 16 lasted over 5 hours.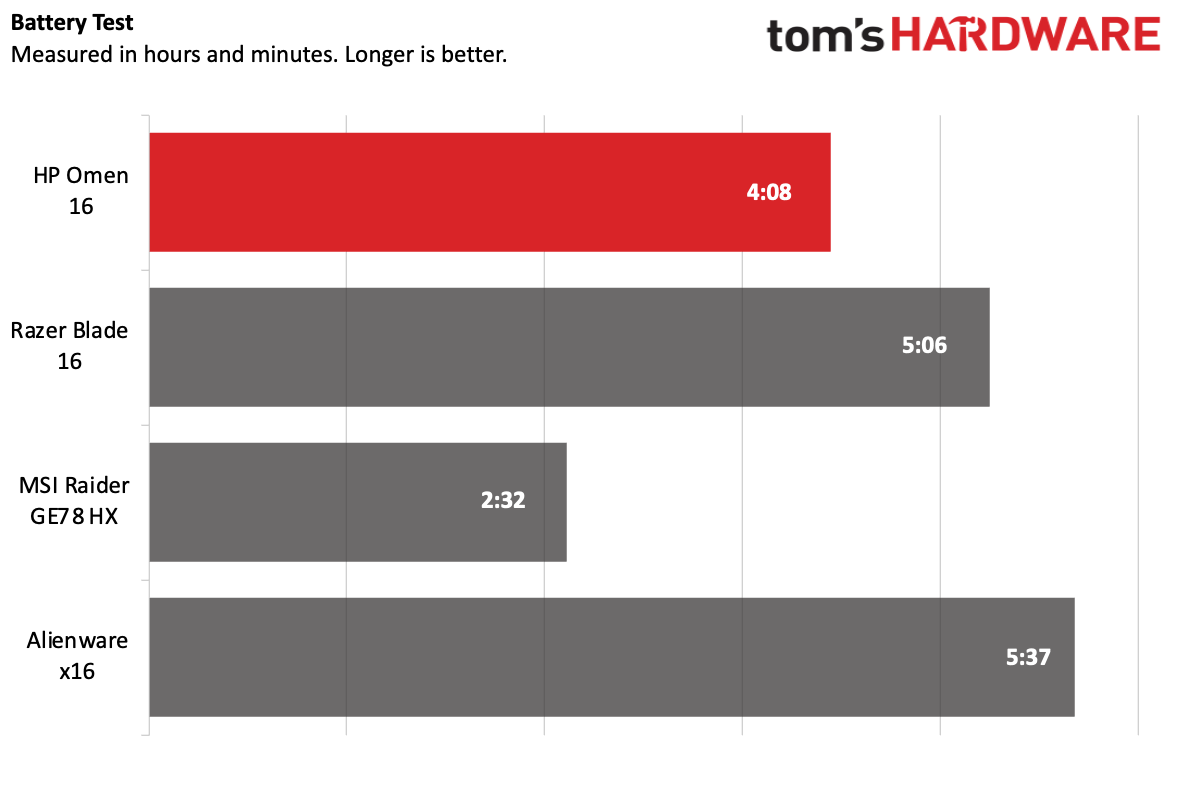 Heat on the HP Omen 16
 HP told me that the Omen 16 is designed to push more air out of the rear and sides and that it has a refined cooling system. Still, in our testing, the laptop got pretty toasty.
The center of the keyboard, between the G and H keys, measured 51.8 degrees Celsius (125.24 degrees Celsius), which is hotter than we like to see. I could feel it when I played Redfall. My left hand got uncomfortably warm on the ASDF keys, while my right hand was nice and cool on my gaming mouse.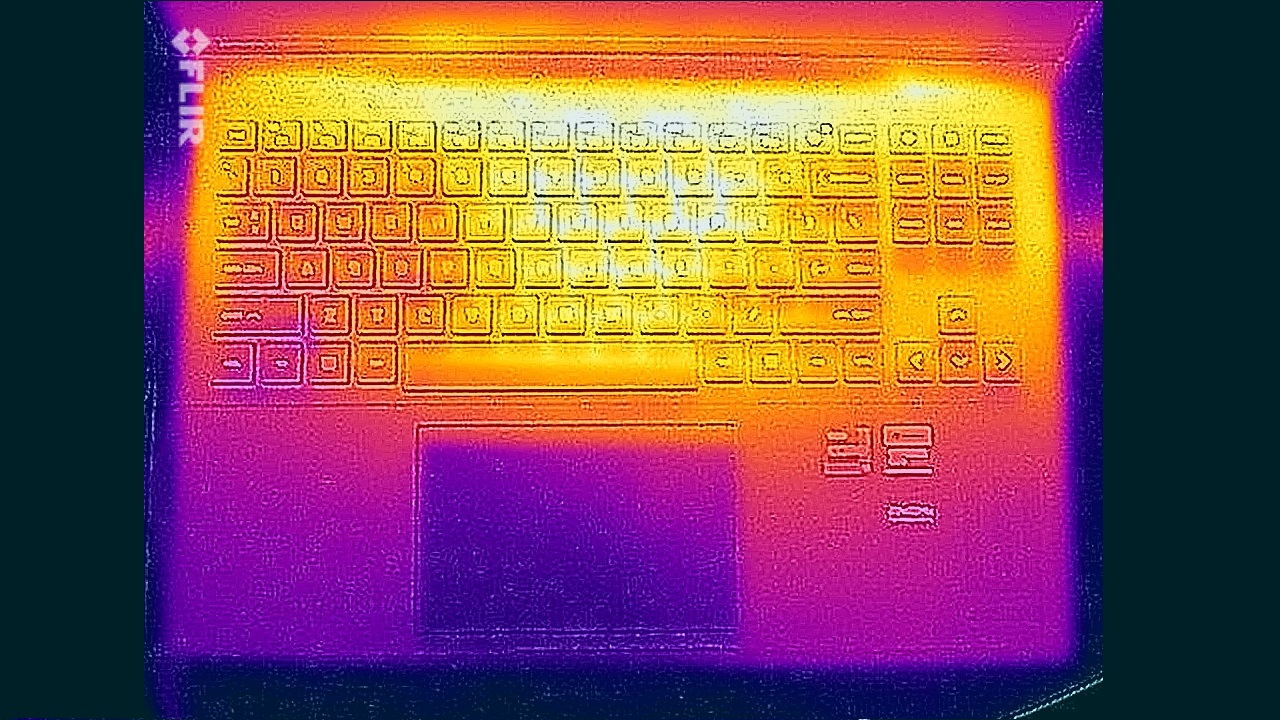 On the bottom, the hottest point reached 66.5 C (151.7) which is pretty hot, even for some gaming laptops. Use this one on a desk while you're gaming.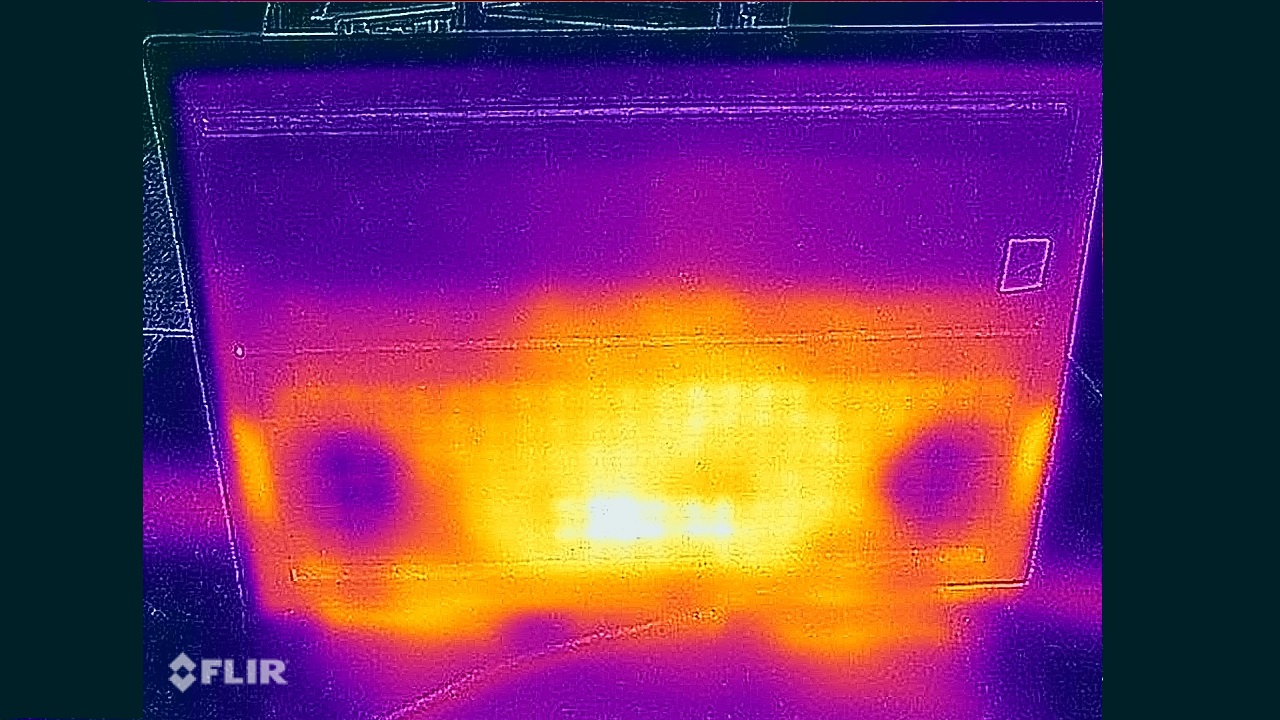 Webcam on the HP Omen 16
In the bezel above the screen, HP has a 1080p webcam with a physical privacy shutter. There's no option for facial recognition to sign in with Windows Hello.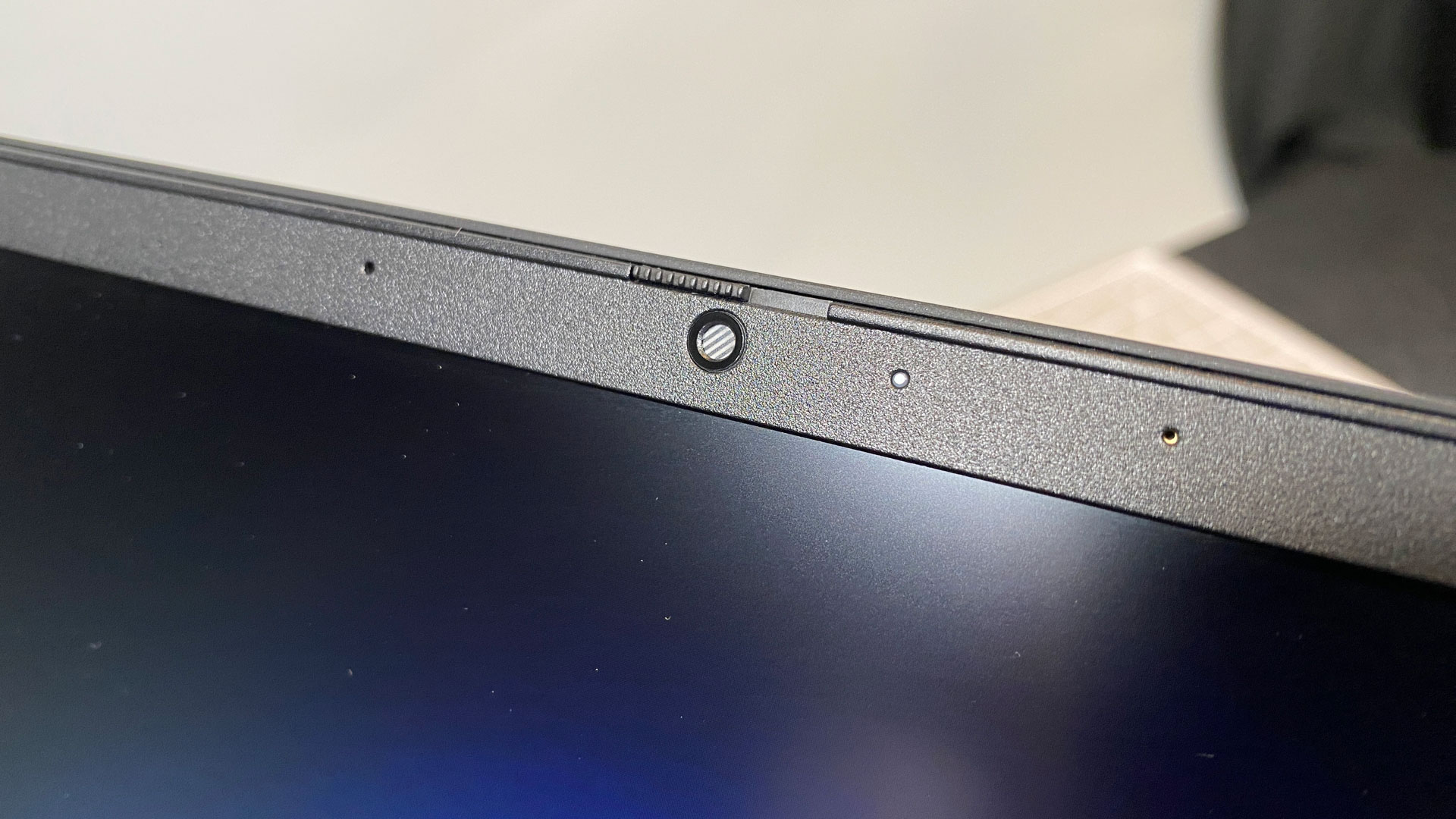 The webcam is a vast improvement over last year's model, which had a blurry 720p lens. In challenging lighting, including a nearby open window, the Omen accurately captured the color of my shirt and eyes, individual hairs on my head, and unfortunately caught imperfections in my skin.
Software and Warranty on the HP Omen 16
HP puts too much software on its laptops, especially for something that's supposed to be premium.
Let's start by counting the junk. There's a "Dropbox promotion" and ExpressVPN in the Start menu, and McAfee LiveSafe is pinned to the desktop. The Start Menu also includes a link to sign up for LastPass and a link to Amazon.com with HP's referral code. Some of these follow you to the Edge browser as pre-filled bookmarks, including ExpressVPN, LastPass, Amazon and Booking.com.
Some of HP's own software is decent, but the amount is overwhelming. The Omen Gaming Hub is the most important piece of software. It serves as a game launcher, lets you customize RGB lighting, and allows you to check system usage and prioritize bandwidth. It also has a boost mode that HP claims gets the most performance out of games. It's a shame that HP has filled this with shopping links and ads, though.
HyperX's Ngenuity software is also on board, which lets you make customizations to your peripherals. HP owns this company, so maybe it should start moving these integrations into Omen Gaming Hub.
Meanwhile, there's plenty of HP-branded software, from the Support Assistant to HP Privacy Settings, HP Documentation and HP Smart, the last of which is designed specifically to set up printers. There's also HP QuickDrop, which lets you move files between your phone and laptop with an associated Android or iOS app.
HP sells the Omen 16 with a 1-year warranty.
HP Omen 16 Configurations
 We tested a beefed-up version of the Omen 16, with an Intel Core i7-13700HX, Nvidia GeForce RTX 4080, 32GB of RAM, 2TB of SST storage, a 240 Hz, 2560 x 1440 display, and Windows 11 Pro. This model, which costs $2,809.99, also comes bundled with a HyperX Cloud II Core Wireless gaming headset (this comes with any configuration with a 13700HX and RTX 4080) that's pre-paired to the laptop.
There are small areas in our configuration that add to the cost. For instance, bumping to Intel Wi-Fi 6E from a Realtek networking card is an extra $10. Switching from Windows 11 Home to Pro adds $70.
The base configurable model on HP's website costs $1,449.99. For that, you get the same CPU, but an Nvidia GeForce RTX 4060 Laptop GPU, 16GB of RAM, 512GB of storage, and a 1080p screen with a slower 165 Hz refresh rate. (This also includes the Realtek wireless and Windows 11 Home).
In between, HP's website also has configuration options for an RTX 4070 ($250 over the base model) and a 1TB SSD ($90 over the base model).
The cheapest options are at Best Buy. For $1,249.99, you can get the Omen 16 with a Core i5-13420H, a 1080p, 144 Hz display, 16GB of RAM, and an Nvidia Geforce RTX 4050 Laptop GPU. For $1,399.99, that's bumped up to a Core i7-13620H and 1TB of storage. 
Bottom Line
The HP Omen 16 is a slim gaming PC with a large display and a design that is simple and unpretentious. There are plenty of ports (even if it is down one USB-A port from the prior model) and you get decent performance for the price. I do, however, wish HP would add a nicer touchpad and would cut down on the bloatware.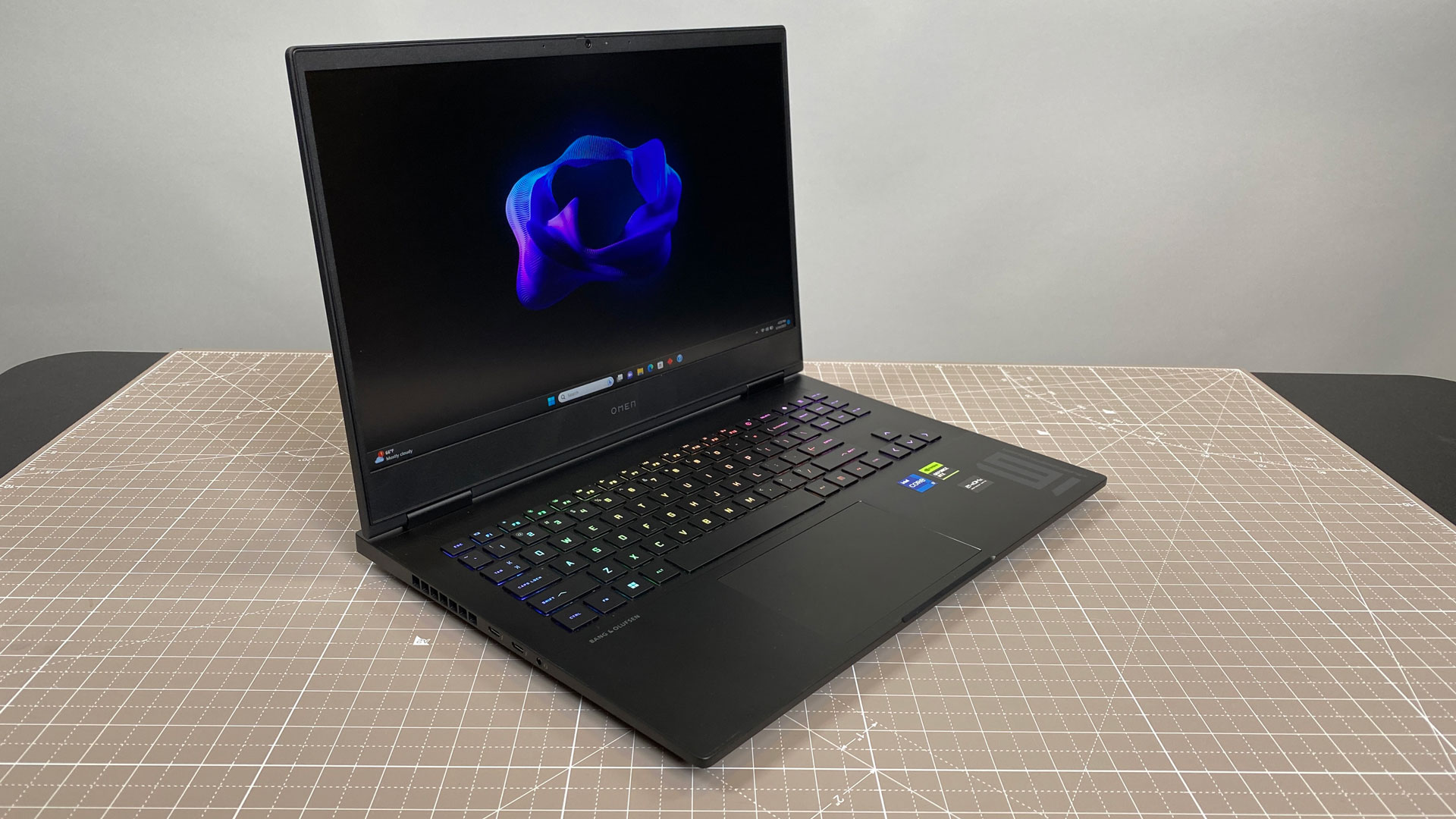 If you want more performance from your gaming PC, there are other RTX 4080 gaming PCs that are more powerful, because those variants use more power and offer higher boost clocks. Both the Alienware x16 and the MSI GE78 HX work that way. But in the case of the MSI, that also means a way bigger laptop. Alienware's laptop offers some bells and whistles like a mechanical keyboard, though you have to pay extra for them.
If you want something relatively thin (look, gaming laptops only get so svelte), with adult stylings and plenty of expandability and repairability down the line, the Omen 16 is well worth a look. You'll just have to spend a bit of time uninstalling extra software.
MORE: How to Buy a Gaming Laptop
MORE: Best Gaming PCs