Nothing is worse than waking up in the morning feeling groggy and lethargic because you didn't get a good night's sleep. We need our sleep to feel energized and ready to take on our busy lives each day. That's where your Apple Watch can step in to help.
CLICK TO GET KURT'S CYBERGUY NEWSLETTER WITH QUICK TIPS, TECH REVIEWS, SECURITY ALERTS AND EASY HOW-TO'S TO MAKE YOU SMARTER
How can my Apple Watch help me sleep?
The Apple Watch device comes with a unique feature called the Sleep app. This app allows you to create sleep schedules so that you can meet your bedtime goals every single night. As long as you wear your watch on your wrist when you go to bed, the Sleep app will track your sleeping patterns throughout the night and tell you how long you remained in each sleeping stage (REM, core and deep).
This feature is available on all watches with the OS7 update, including the Apple Watch Series 3, 4, 5, 6, 7 and 8.
HOW TO GET ALEXA TO SPEAK MORE LIKE YOU
What features are available on the Sleep app?
The Sleep app has all kinds of useful features to make sure you get the best sleep possible. You can create multiple schedules for different days of the week, depending on what you want to achieve for that night. Some great features include:
Setting a sleep goal (how many hours of sleep you want to get)
Setting what time you want to go to bed and wake up
An alarm to wake you up in the morning
When to turn on Sleep Focus, which limits distractions before you go to bed and protects you once you're in bed
Sleep tracking, which uses your motion to detect sleep
If your watch is at 30% battery or less, it can alert you to charge it before you put it on to go to sleep
How to set up the Sleep app on the Apple Watch
Open the Sleep app on your Apple Watch (the blue app that looks like a bed)
Follow the on-screen instructions to set up
Once your Sleep app is set up on your device, you can adjust all its features to what you want them to be in order to get the best results possible.
How to change or turn off your alarm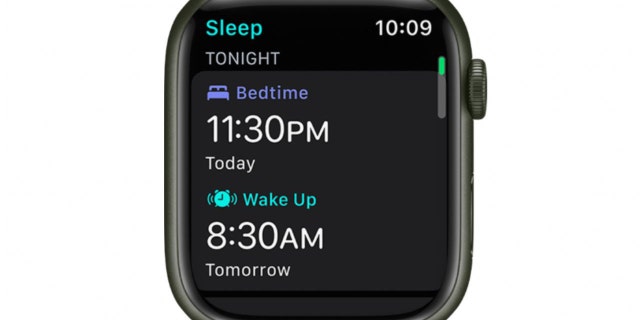 Open the Sleep app
Tap your current bedtime
If you don't want to be woken up in the morning, select Turn Off Alarm
If you want to change your wake-up time, tap Wake-Up Time and turn the Digital Crown to set a new time.
Press the checkmark icon when done
How to change or add a sleep schedule
Open the Sleep app
Tap Full Schedule
To change a sleep schedule, tap Current Schedule and change the days, wake time and bedtime
To add a sleep schedule, tap Add Schedule
To change your sleep goal, tap Sleep Goal and set the amount of time you want to sleep
To change your wind-down time, tap Wind Down and set the amount of time you want Sleep Focus to be active before bedtime
To remove or cancel a schedule, tap Current Schedule and scroll to the bottom, Select Delete Schedule
HOW TO GET A FREE SECOND PHONE NUMBER AND STOP ANNOYING CALLS
How to change sleep options
Open your Settings app
Tap Sleep and adjust the settings (Turn on at Wind Down, Sleep Screen, Show Time)
Turn Sleep Tracking and Charging reminders on or off
How to view your recent sleep history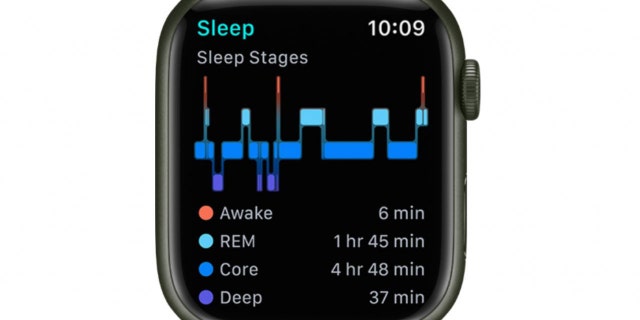 Open your Sleep app
Scroll down to the bottom to see your sleep stats from the night before, including the amount of sleep you got, the time you spent in each sleep stage, and your sleep average over the last 14 days.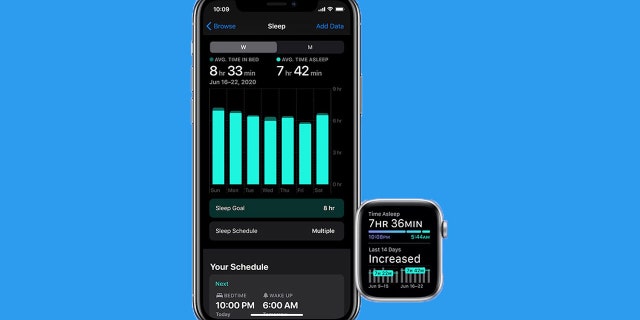 How to view your sleeping respiratory rate
After you wear your Apple Watch to bed, you can then see how your breathing was throughout the night while you slept by checking the Health app on your iPhone.
Open the Health app on your iPhone
Select Browse
Select Respiratory
Select Respiratory Rate
Select Show More Respiratory Rate Data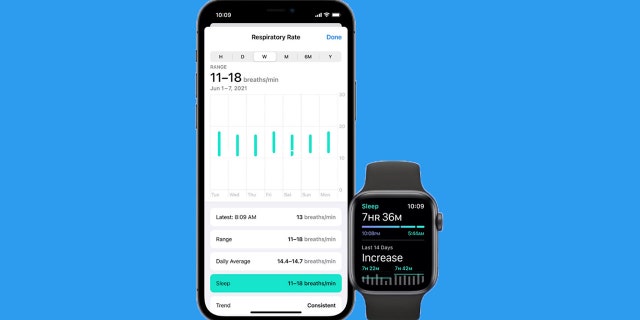 What are the latest Apple Watches I should consider? 
This fall, Apple released a slew of new products, including three new smartwatches that will track your health, last all day, and save your life. I was at Apple Park in Cupertino, California, alongside Tim Cook as he debuted the Apple Watch Series 8, Apple Watch SE, and the all-new Apple Watch Ultra.
Be sure to read my reviews of these Apple Watches by heading over to CyberGuy.com and search "Apple Watch."
 CLICK HERE TO DOWNLOAD THE FOX NEWS APP
For more Apple tips, be sure to subscribe to the CyberGuy Report Newsletter at CyberGuy.com/Newsletter.
Copyright 2023 CyberGuy.com. All rights reserved. CyberGuy.com articles and content may contain affiliate links that earn a commission when purchases are made.