Did you know you could use your Amazon Alexa device in case of an emergency? Plus, I have the details on Amazon's lesser-known security software that could protect your home from intruders and help you contact an emergency hotline without picking up a phone.
CLICK TO GET KURT'S CYBERGUY NEWSLETTER WITH QUICK TIPS, TECH REVIEWS, SECURITY ALERTS AND EASY HOW-TO'S TO MAKE YOU SMARTER  
Set up your Alexa for an emergency
If you have an Alexa device, you know how convenient it can make life despite the obvious privacy issues that come along with an open microphone inside your home. You can ask simple questions or find out quick information, all without having to use your hands. Now I'm here to help you use the handy technology to your advantage, and set up your Alexa so you can use the device in case of emergency.
Can you call 911 with Alexa?
Alexa's devices don't let you call 911 directly. However, I've found some solutions for calling for help quickly using your Alexa.
GIVING TUESDAY: BLANKETS OF HOPE HELPS KEEP THE HOMELESS WARM IN 'MASSIVE MOVEMENT OF KINDNESS'
Set up an Emergency Contact
The first step you should do for your own safety is to set up an Emergency Contact on your Alexa. It's super easy to do, and if you have an emergency contact set up, your Alexa device will contact that person via message and call so that they can hopefully help you directly or call for emergency services.
Open your Alexa app on your smartphone
Tap Communicate
On the top right, tap the icon that looks like a person or two silhouettes – that's your contacts
Then tap the three vertical dots to get more menu settings
Tap Emergency Contact
Tap Select Contact
Either search or scroll until you've found the contact you'd like to add as your emergency contact
Select the phone number under their contact that you'd like to use – ideally choose a cell phone number and not a landline, so they can receive a call and message
Tap Next and tap Done
If you need to contact your emergency contact, use one of the following phrases:"Alexa…":- "Call for help."- "Call my emergency contact."- "Call my contact for help."- "Call my help contact."- "Help."- "I need help."
Pro-tip: Make sure you don't have anyone in your contacts with the name or word "help," as your Alexa may try to contact them instead.
Alexa Together is a subscription service to help you care for loved ones remotely. If the person you want to support has an Alexa Echo device, and an Amazon account, you can set up an Alexa Together subscription for them.
The best feature Alexa Together offers is 24/7 Urgent Response. They have agents on-call at all times that can help get your loved one assistance. While this subscription does cost a monthly fee, it's worth it for peace of mind about your family members that don't live as close.
WHO HAS CASH TO BURN FOR THESE EXTRAVAGANT $1,000+ AMAZON GIFTS?
Other features offered by Alexa Together:
Customize AlertsFind out when your loved one first interacts with Alexa, and set up alerts for them if they haven't interacted with Alexa on a particular day, so you know what they're up to
Remote assistanceSet up alerts on their device, so they can get reminders, link music services to their account, manage shopping lists, and more
Create a circle of supportWhile you can only support one user with Alexa Together, you can add up to 10 additional family members or friends in a Circle of Support so that you know someone is always there to help
Alexa Together offers a 30-day free trial and costs $19.99 a month (plus tax) after your free trial ends.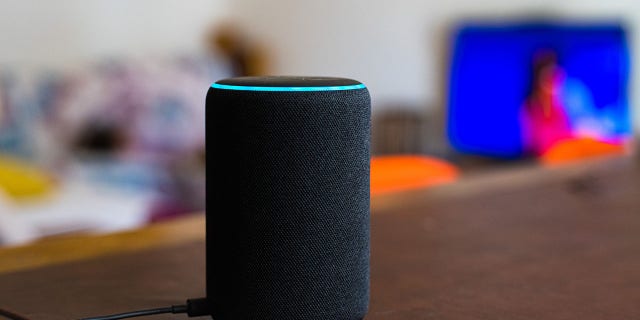 Alexa Guard
Amazon also offers something called Alexa Guard, which lets you call for emergency help, get alerts about your home when you're not there, and offer you extra security by deterring unwanted visitors.
There is a free version of Alexa Guard, but it doesn't offer nearly the same amount of security features that the Plus version does. If you have Alexa Guard Plus, you have 24/7 access to Alexa's Emergency Hotline which will help contact emergency services if needed.
Other features include:
Smart AlertsYour Alexa can detect certain sounds and alert you if they're potentially dangerous. You can receive alerts about the sounds of smoke or carbon monoxide detectors going off, or footsteps, glass breaking, or a door closing
Deter unwanted visitorsYou can set up your Alexa to turn on and off lights when you're not home so it seems like someone is there, play a sound of a dog barking when you're not home if motion is detected, or sound a siren when motion is detected inside
Alexa Guard offers a free trial, and if you subscribe to the monthly plan it's $4.99 a month, or $49 for the year.
How do I set up Alexa Guard and Alexa Guard Plus?
In order to set this up, do the following:
1) Open the Amazon Alexa app. (be sure you have the latest version of the app and that your Echo software is current)
2) Click the "More" button in the bottom right corner
3) Click Settings > Scroll down to Guard and click "Set Up Guard"
4) You can "Add":
Smart devices including smoke alarms, carbon monoxide detectors
Smart alerts when the sound of broken glass is heard.
Smart lighting (when you set it "Away" mode, Alexa will turn the connected lights
CLICK HERE TO GET THE FOX NEWS APP
5) You can get the premium Alexa Guard Plus by clicking the Settings gear icon in the top right.  You'll note features you can activate which includes "Dog Barking Sounds", "Activity Sounds with Siren", "Emergency Helpline".
Copyright 2022 CyberGuy.com. All rights reserved. CyberGuy.com articles and content may contain affiliate links that earn a commission when purchases are made.