Southern California authorities are warning beachgoers after three juvenile great white sharks were spotted on Friday. 
San Diego-Fire-Rescue posted an advisory warning swimmers to enter the waters by Blacks Beach at their own risk.
The sharks were seen by lifeguards patrolling in a boat about 100 yards from shore at around 12:15 p.m. PT.
The sharks were six, eight and nine feet in length and were feeding on the carcass of a sea lion. 
HAWAIIAN SURFER SHARES UNSETTLING ENCOUNTER WITH 20-FOOT GREAT WHITE: 'THAT'S A SHARK!'
They were not exhibiting any aggressive behavior.
"State lifeguards were notified because of proximity and signs were posted along the beach a mile in each direction from where the sharks were seen," the department said in a Facebook post.
"While these sharks were not exhibiting any aggressive behavior toward humans at the time of the sighting, lifeguards recommend exercising caution," it said. 
This comes after photographer Kevin Christopherson captured footage of at least four sharks swimming near San Onofre State Beach in San Diego County. 
"I counted 4 maybe 5 total great white sharks, and it didn't stop anyone from catching some waves!" Christopherson wrote via his photography outlet, Enci Media.
Park officials told FOX 5 San Diego earlier in the month that a shark sighting at a beach in Carlsbad had prompted advisory signs to be posted.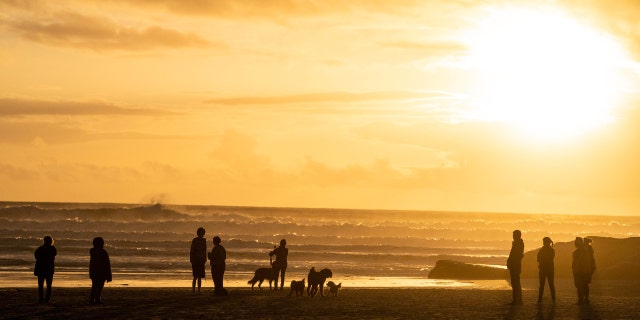 FOOTAGE CAPTURES GROUP OF SHARKS SWIMMING JUST BELOW SURFERS AT CA BEACH
The aquatic predator had been swimming about 250 to 300 yards from the shore. It was measured at eight to ten feet long and was seen swimming in the surf line. It did not interact with people, and no information was provided about what type of shark was spotted.
"State Parks would like to remind visitors that sharks are an important part of the coastal ecosystem and that interactions between humans and sharks are rare along the coast of Southern California," California State Parks spokesperson Jorge Moreno said in a statement to the station.
Summer is considered shark season in southern California. There are nursery areas for juvenile great white sharks in the near-shore waters of southern California.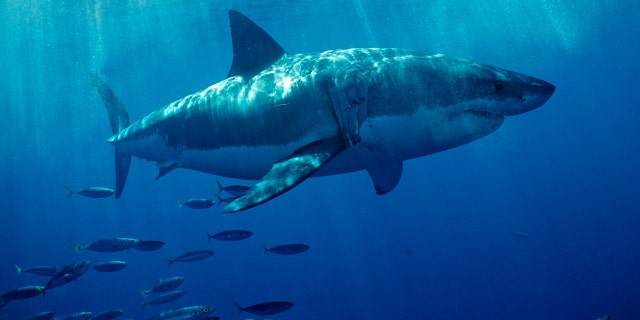 The danger of a shark attack in California waters is minuscule, although the great white shark is the only species in California that presents a significant danger to humans, and only 99 unprovoked attacks by sharks, resulting in nine fatalities, have occurred in California history, according to the California Academy of Sciences. 
CLICK HERE TO GET THE FOX NEWS APP 
Adult white sharks feed primarily upon seals and sea lions, with attacks on humans typically occurring near shore in water around ten to thirty feet deep.
White sharks have been protected in California waters since January 1994. 
Most shark incidents are due to the shark briefly confusing a human being for another animal or exploring surroundings it finds curious via bites.
Fox News' Timothy Nerozzi contributed to this report.