Let's face it. Some people are more nosy than others and will always want to know what conversations they're missing out on. If you have a friend or family member like this, you may be hesitant to ever let them borrow your phone, even for the briefest moment. You know they will probably poke around in different apps, including your messages app. 
CLICK TO GET KURT'S FREE CYBERGUY NEWSLETTER WITH SECURITY ALERTS, QUICK TIPS, TECH REVIEWS AND EASY HOW-TO'S TO MAKE YOU SMARTER 
iPhone's latest software update includes a bunch of bug fixes, 21 new emojis, and some new enhancements like this cool and clever shortcut feature that will make it much harder for anyone to snoop around your phone and messages. 
Lock your iPhone messages shortcut 
Update to the latest iOS 16.5.1 software 
First, you'll want to update to iOS 16.5.1, which is the latest software to set up this shortcut and is available for iPhone 8 models and above. If you haven't updated to iOS 16.5.1, follow these steps to do so: 
How to update to iOS 16.5.1 
Head to Settings
Tap General
Tap Software Update
Tap Download and Install
This will take a little while, so do it when you don't need your phone immediately, like overnight while charging, for example. 
HOW TO TELL IF SOMEONE IS SNOOPING ON YOUR ANDROID   
Second, you must have a lock screen set up on your iPhone, which you should definitely already have for your own safety. 
How to set up lock screen on iPhone 
Open Settings
Scroll down and click Display and Brightness 
Scroll down to Auto-Lock and tap it
Then choose your preferred time interval, and you will be set
Set up shortcut to lock iPhone messages
Once you have iOS 16.5.1 installed and your lock screen is set up, you can follow these instructions to create this clever shortcut to lock your messages. 
How to set up shortcut to lock iPhone messages 
Open the Shortcuts app on your iPhone
Tap Automation on the bottom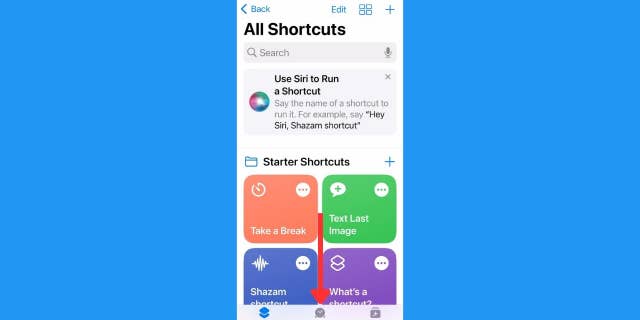 Tap Create Personal Automation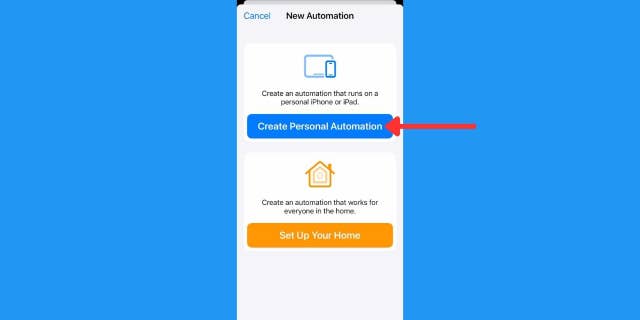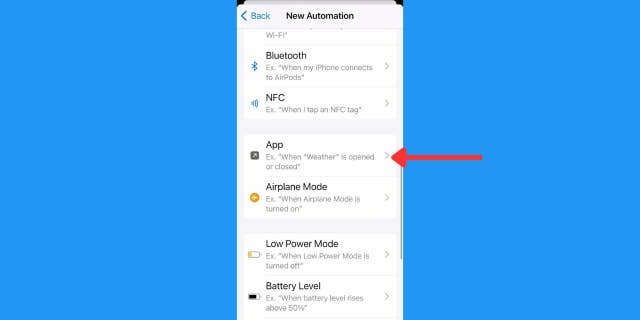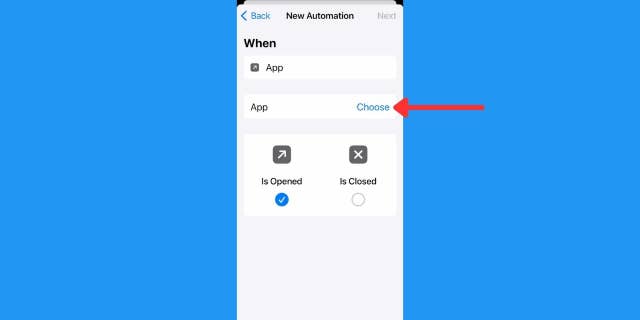 Search for Messages and select the Messages app. Then tap Done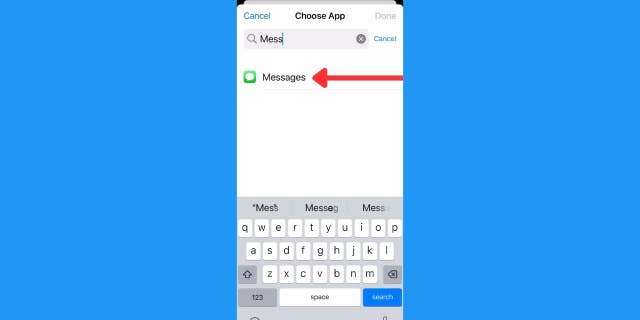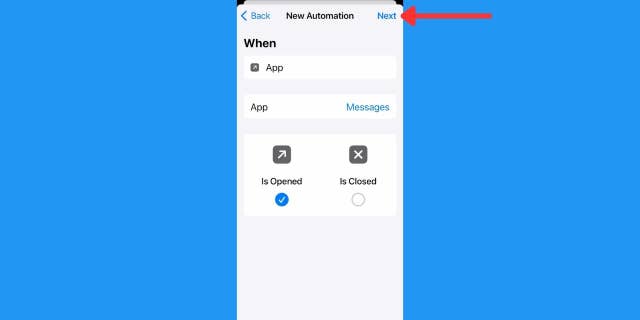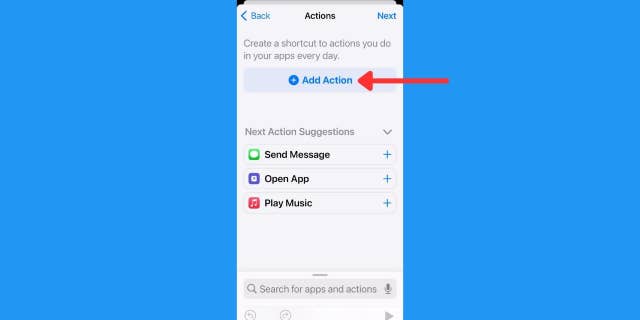 Type in the words "Lock screen" in the search window, and under Scripting, tap Lock screen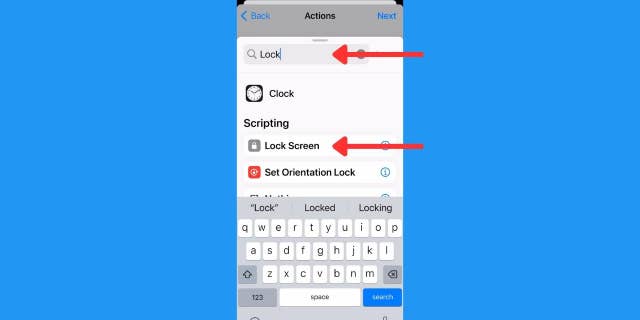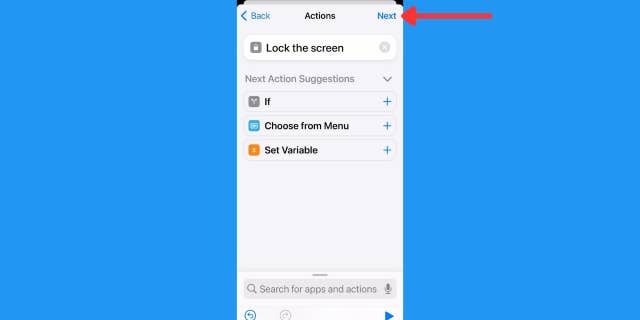 Be sure to toggle off the option "Ask Before Running" – otherwise, this won't happen automatically, which will defeat the purpose of the automatic lock screen. Then confirm your decision by tapping Don't Ask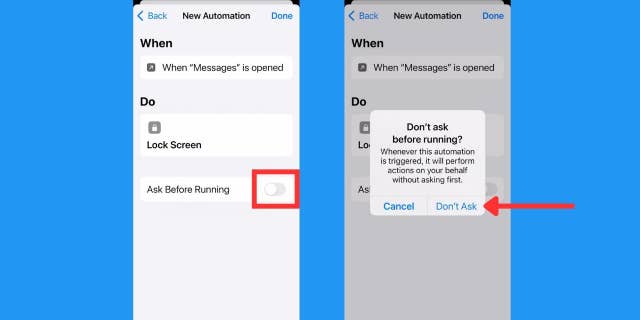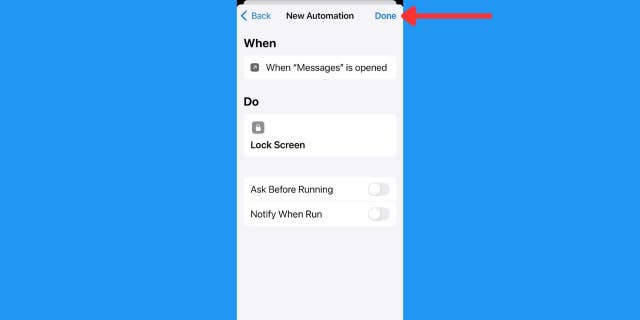 FOR MORE OF MY SECURITY & PRIVACY TIPS, SUBSCRIBE TO MY FREE CYBERGUY REPORT NEWSLETTER BY HEADING TO CYBERGUY.COM/NEWSLETTER  
Now anytime you tap the Messages app from your iPhone home screen, your phone will automatically lock. Once you type in your passcode, the messages app will open like normal. 
If someone knows your passcode, this shortcut won't keep you private. However, if you ever hand your phone to someone who doesn't know your passcode and they attempt to open your messages to maybe search for their name, they'll be faced with your lock screen instead. 
DON'T LET SNOOPS NEARBY LISTEN TO YOUR VOICEMAIL WITH THIS QUICK TIP 
Disable lock your iPhone messages shortcut 
If you ever want to turn this shortcut off, it's super easy. 
How to lock your iPhone messages shortcut 
Go back to the Shortcuts app
Tap Automation
Under Personal you'll see the shortcut you set up that says When "Messages" is opened – Lock Screen"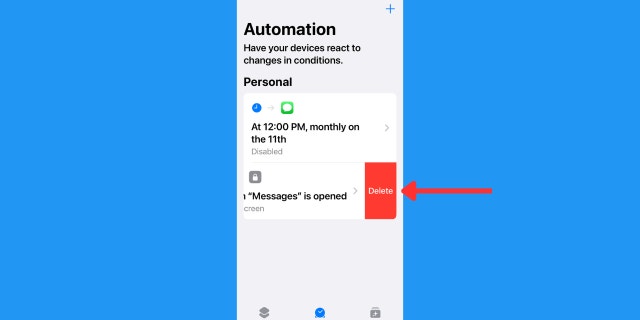 Go ahead and swipe left and then tap Delete, and it will remove this shortcut 
Kurt's key takeaways 
There are many reasons you might want to make an app like Messages go straight to the lock screen – maybe you're on vacation and are nervous you'll leave your phone somewhere. Maybe you only want to turn it on temporarily because you're with a specific person who you think is more likely to snoop than anyone else if your phone is in their possession. Whatever the reason may be, this shortcut app is worth embracing to keep your conversations under virtual lock and key from prying eyes. 
What are some other creative ways you secure your phone and protect your privacy from prying eyes? Let us know by writing us at Cyberguy.com/Contact  
CLICK HERE TO GET THE FOX NEWS APP
For more of my security alerts, subscribe to my free CyberGuy Report Newsletter by heading to Cyberguy.com/Newsletter 
Copyright 2023 CyberGuy.com.  All rights reserved.