DeepCool may not be the most well-known name in the cooling and component world, but the company has been delivering innovative, interesting and budget-conscious PC cases and cooling products for more than a decade. Its current lineup includes air and AIO coolers, computer cases, keyboards, power supplies and other accessories. We've been impressed recently by the company's AK620 and Assassin III air coolers, and DeepCool's 360mm LT720 AIO currently holds our top recommendation on our list of best AIO coolers.  
The company's latest cooler to land on our test bench is the DeepCool Assassin IV. The company says it has been years in the making, with the aim of achieving a new pinnacle in air cooling aesthetic and performance. We'll of course have to put it through our usual testing to see if it achieves those lofty goals to earn a spot on our best CPU coolers list, but here are the cooler's full specs, direct from DeepCool.
Specs
Swipe to scroll horizontally
| | |
| --- | --- |
| Cooler | DeepCool Assassin IV |
| MSRP | $99.99 USD |
| Installed Size | 144 (L) x 147 (W) x 164 mm (H) |
| Heatsink Material | Aluminum |
| Heatpipes | 7x 6mm Copper Heatpipes |
| Socket Compatibility | Intel: LGA1700, LGA1200, LGA1151, LGA1150, LGA1155, LGA2066, LGA 2001, LGA2011-v3 |
|   | AMD: AM5 & AM4 |
| Base | Precision-Machined Convex Copper Base |
| Max TDP (Our Testing) | 236W on Intel i7-13700K, 130W on AMD Ryzen 7 7700X |
Packing and Included Contents 
DeepCool's Assassin IV arrives in a box that is slightly smaller than, but similar in size to, other coolers in its class.
The inner contents are protected by molded foam and cardboard, insuring the cooler arrives undamaged.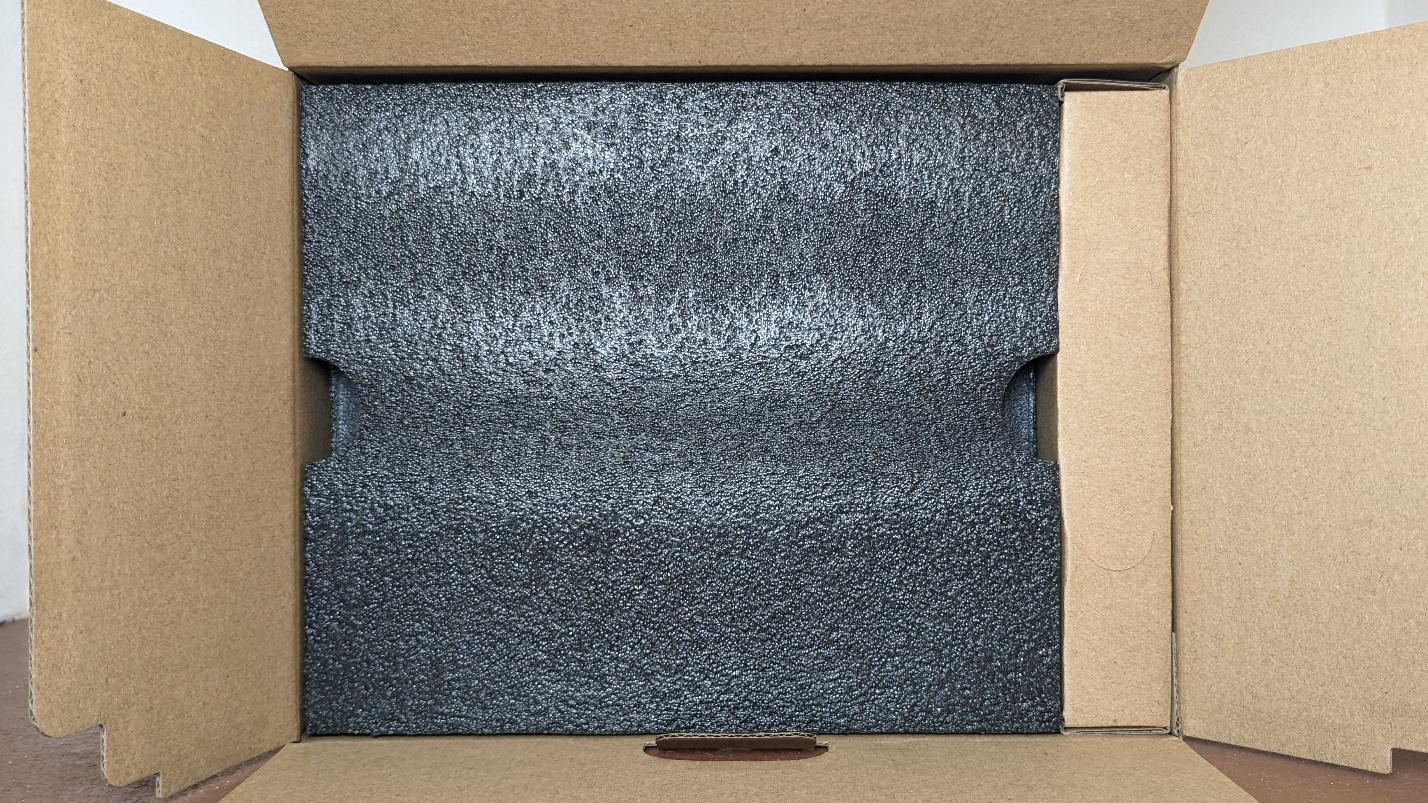 Included with the package are the following:
Installation on LGA1700 and AMD AM4 AM5
The setup and installation of DeepCool's Assassin IV is fairly simple. The process is similar for both AMD Ryzen and Intel motherboards: 
1. If you're running an AMD Ryzen system, you'll need to start by removing the default retention bracket. Intel users will need to apply the backplate to the motherboard.
2. Secure the mounting standoffs on the mounting holes.
3. Place the mounting bars on top of the standoffs and secure them with the included thumbscrews.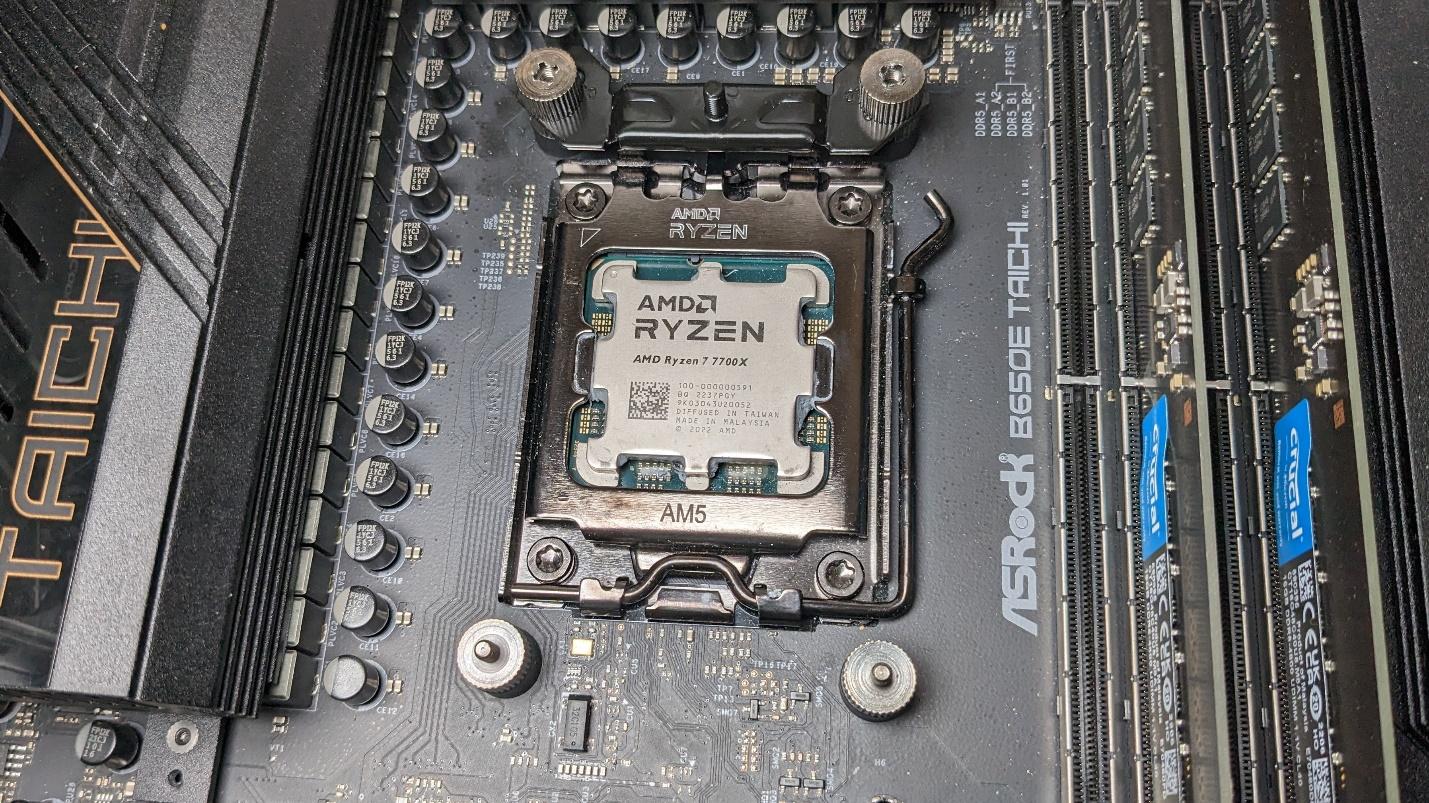 4. Remove the middle top cover of the Assassin IV and remove the 140mm fan underneath.
5. Place the Assassin IV on top of the mounting bars and use the included screwdriver to secure it to the bars.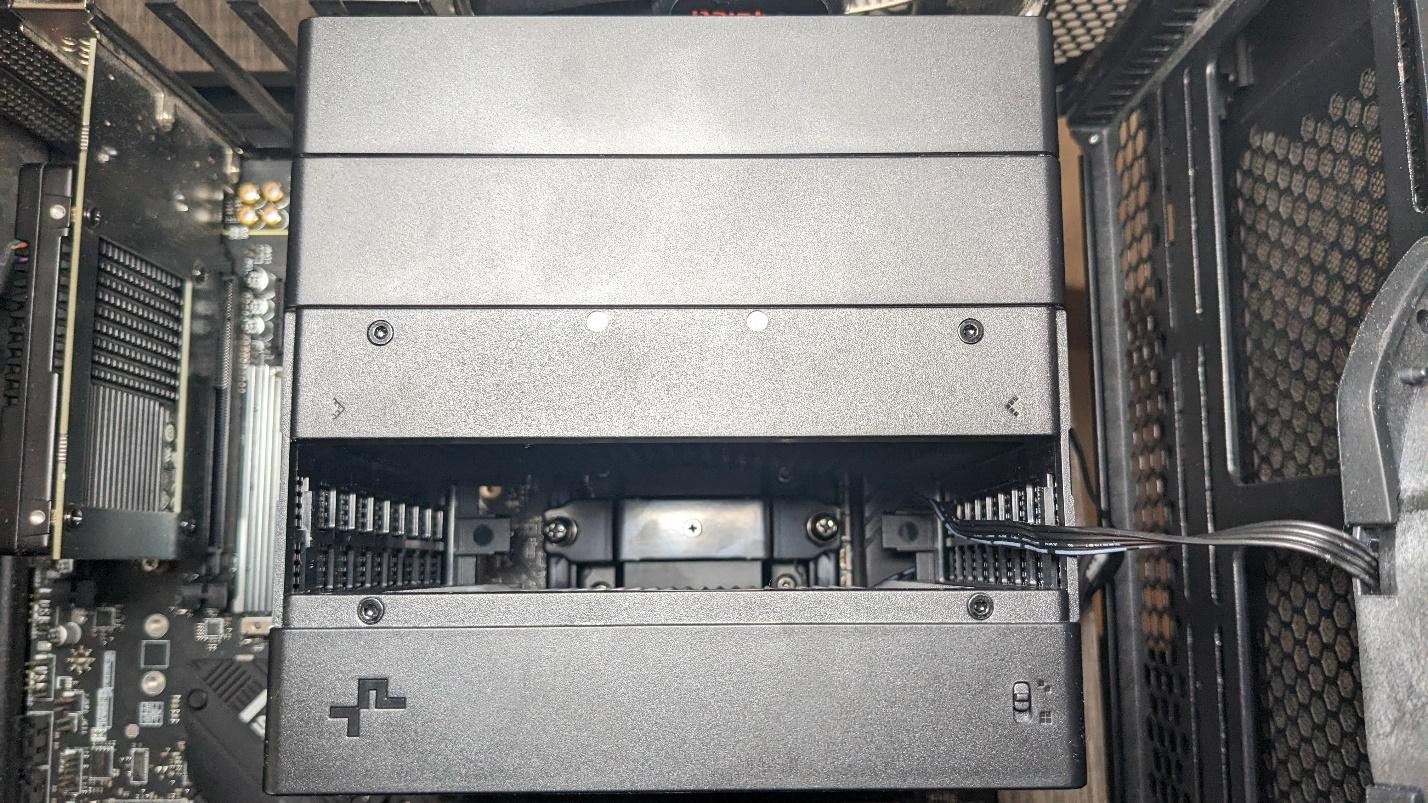 6. Replace the middle fan and top cover, then connect the PWM cables to the motherboard.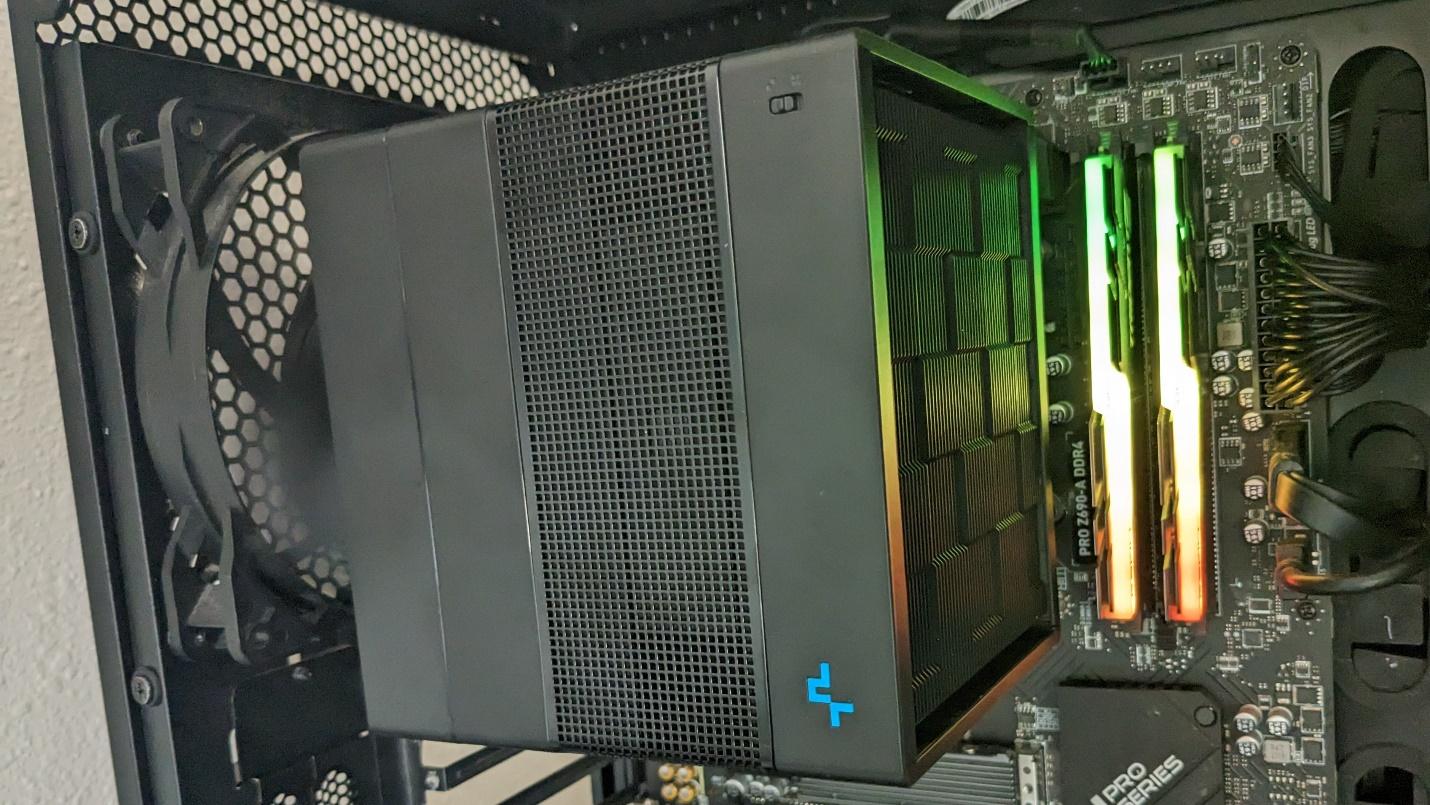 Features of DeepCool's Assassin IV Air Cooler
The latest Assassin features a new eye-catching design. It not only looks good, but was built for not just top-tier cooling performance, but the best performance while running quietly. Does it have what it takes to compete with coolers like Noctua's NH-D15 and Cooler Master's MA824 Stealth? We'll look at performance in the benchmarks section, but first, let's talk about some of the features of the Assassin IV that make it stand out from other coolers.
Change from quiet and performance modes at the flick of a switch
The Assassin IV supports two modes of operation out of the box: quiet and performance modes. The quiet mode, as its name suggests, implements a fan curve tuned for silence and lowers the maximum fan speed. Extreme mode allows for unrestricted operation for maximum cooling capacity, at the cost of slightly higher noise levels.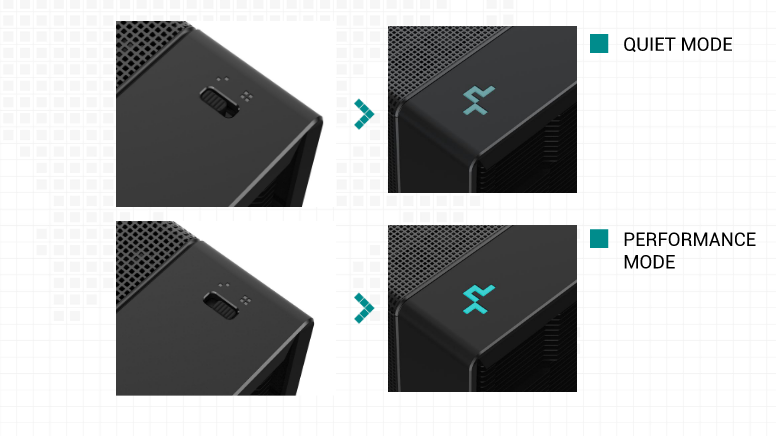 Checkerboard Matrix fin design
The Assassin IV incorporates DeepCool's unique checkerboard matrix design, which aims to maintain increased levels of air pressure.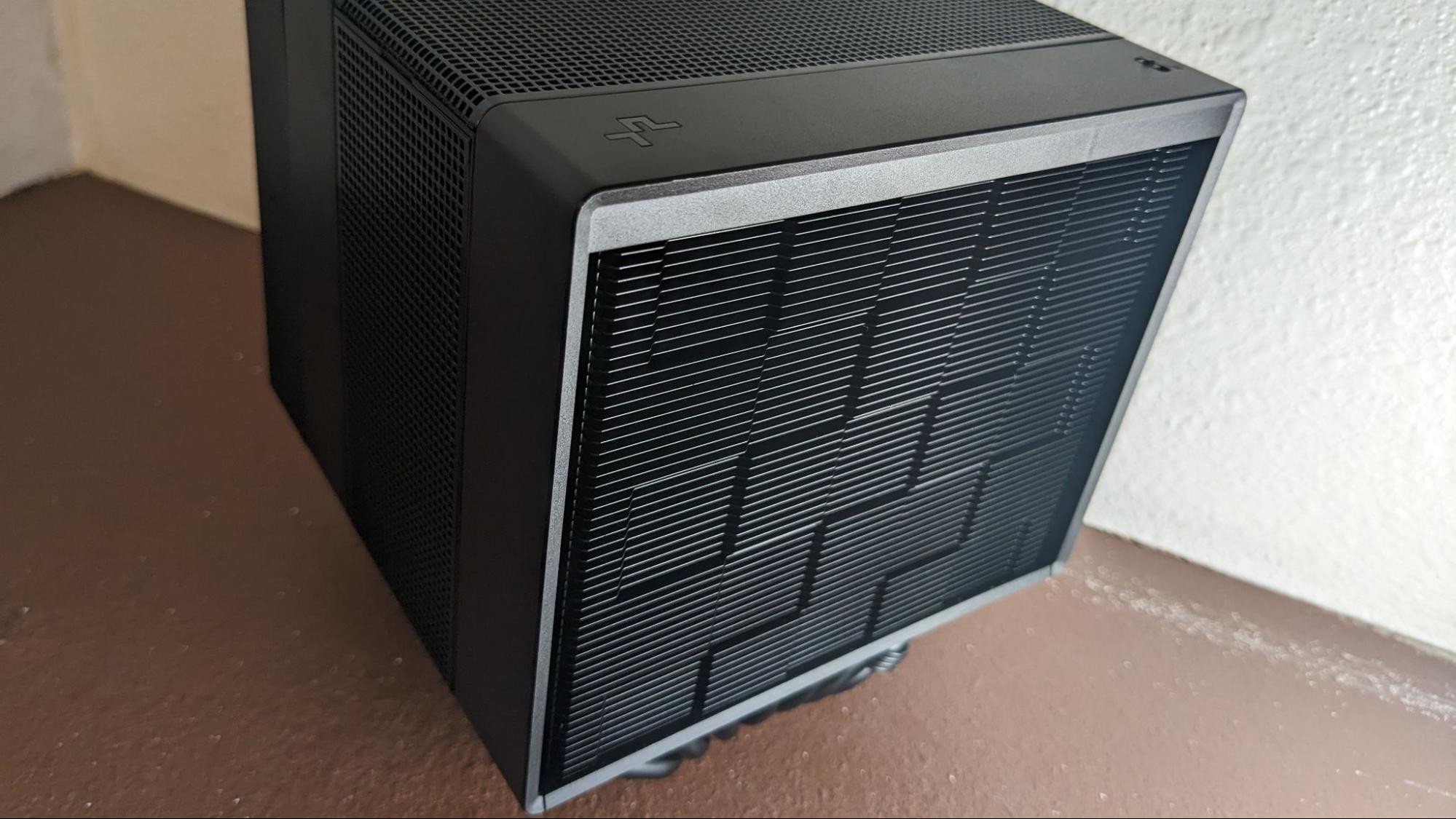 Full RAM compatibility
In the default configuration, DeepCool's Assassin IV provides full compatibility with any size of RAM module, as the cooler does not overhang DIMM slots at all, at least in its standard configuration. More on that in the very next section.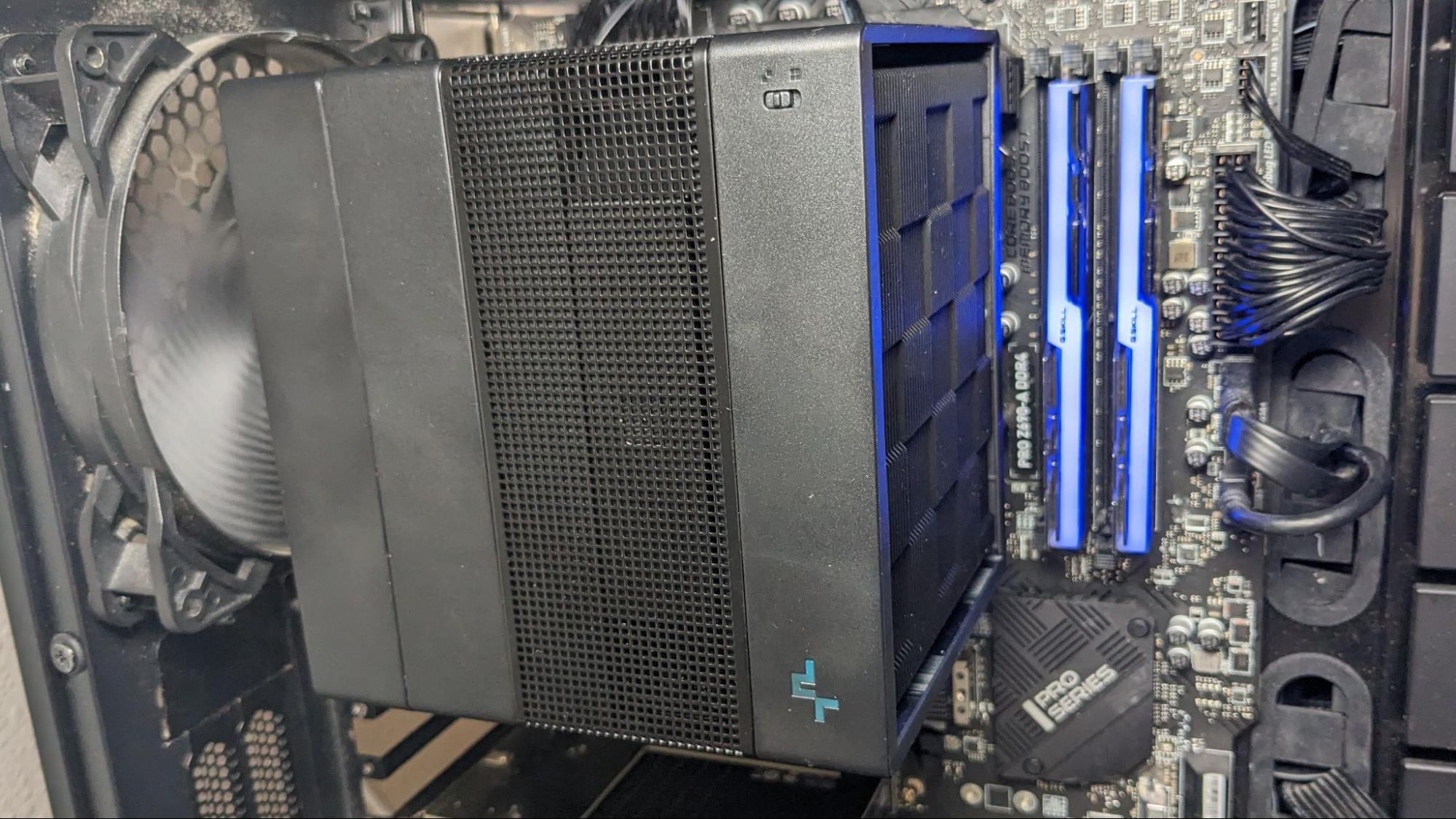 Solid block design, mount for an optional third fan
The Assassin IV features a "solid block" style design, reminiscent of a Borg Cube from Star Trek. This design improves air pressure by eliminating potential pathways for air leakage. There's no place for fan clips in this design, as the fans are connected via frames instead.
The rear frame can be moved to the front, or you can add an additional fan (not included) using an extra fan frame, included with the unit. However, if you use three fans you'll need to make sure your RAM is less than 42mm tall.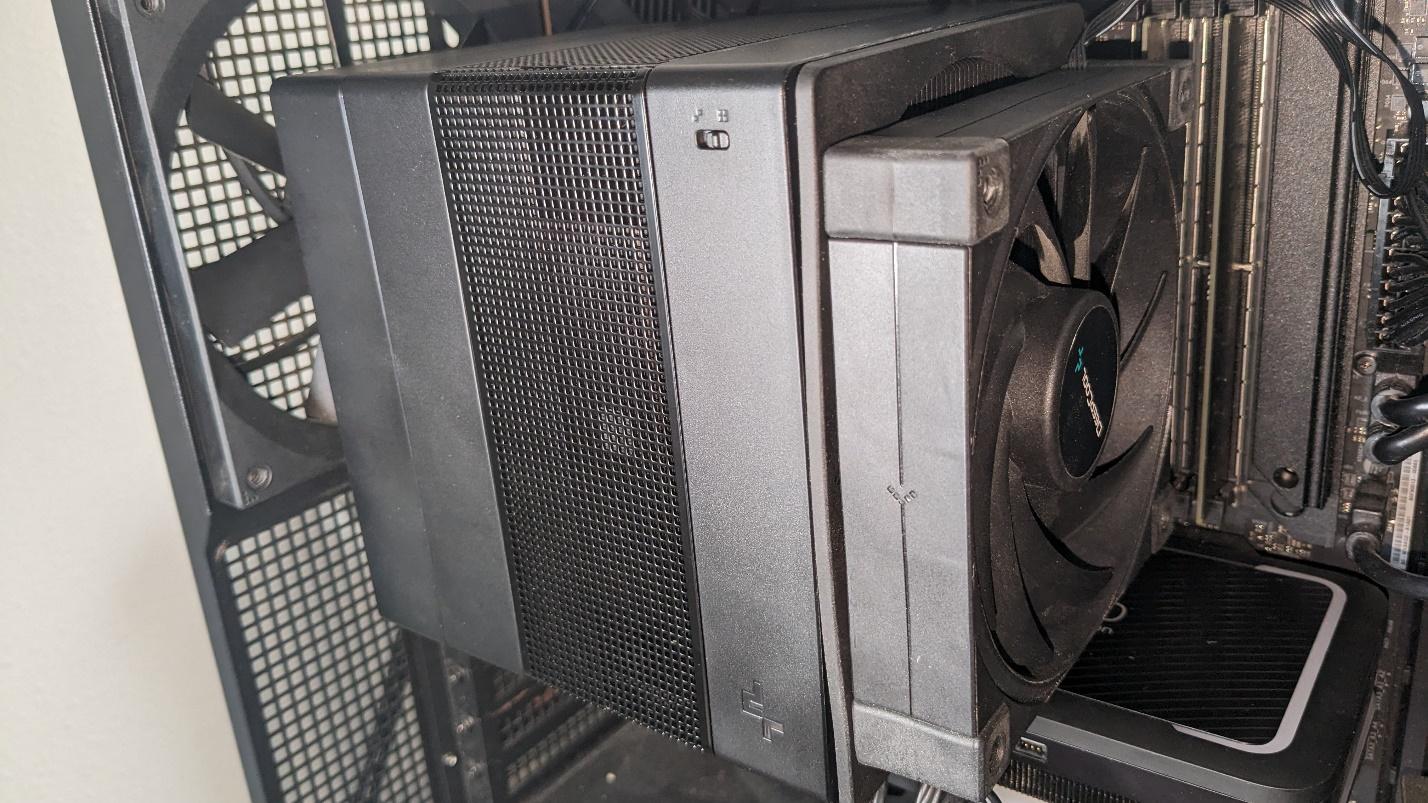 Two newly designed FDB fans, one 120mm and one 140mm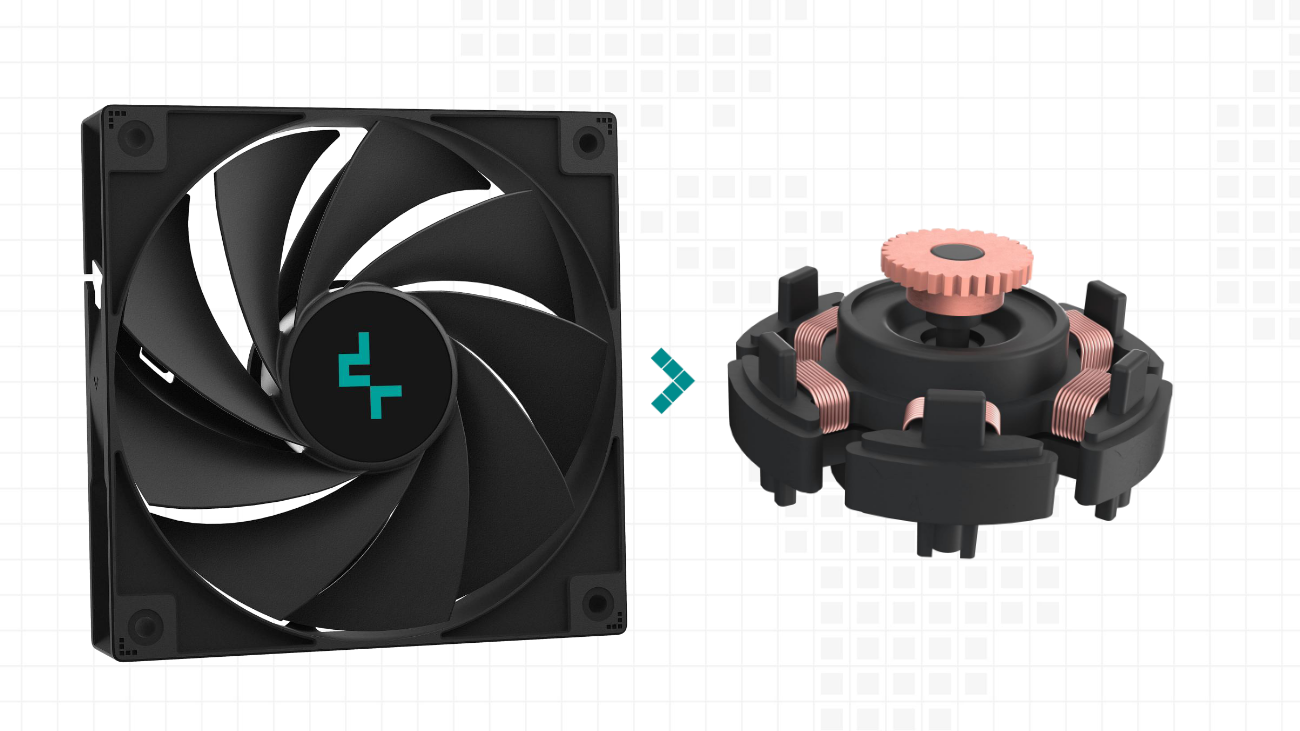 There's more to a cooler than just the heatsink or radiator. The bundled fans have a significant impact on cooling and noise levels. The Assassin IV comes with two new FDB fans of different sizes pre-installed: a 140mm fan in the middle and a 120mm fan at the rear.
These fans incorporate fluid dynamic bearings and a newly designed 3 phase, six-stator motors with a focus on reduced power consumption.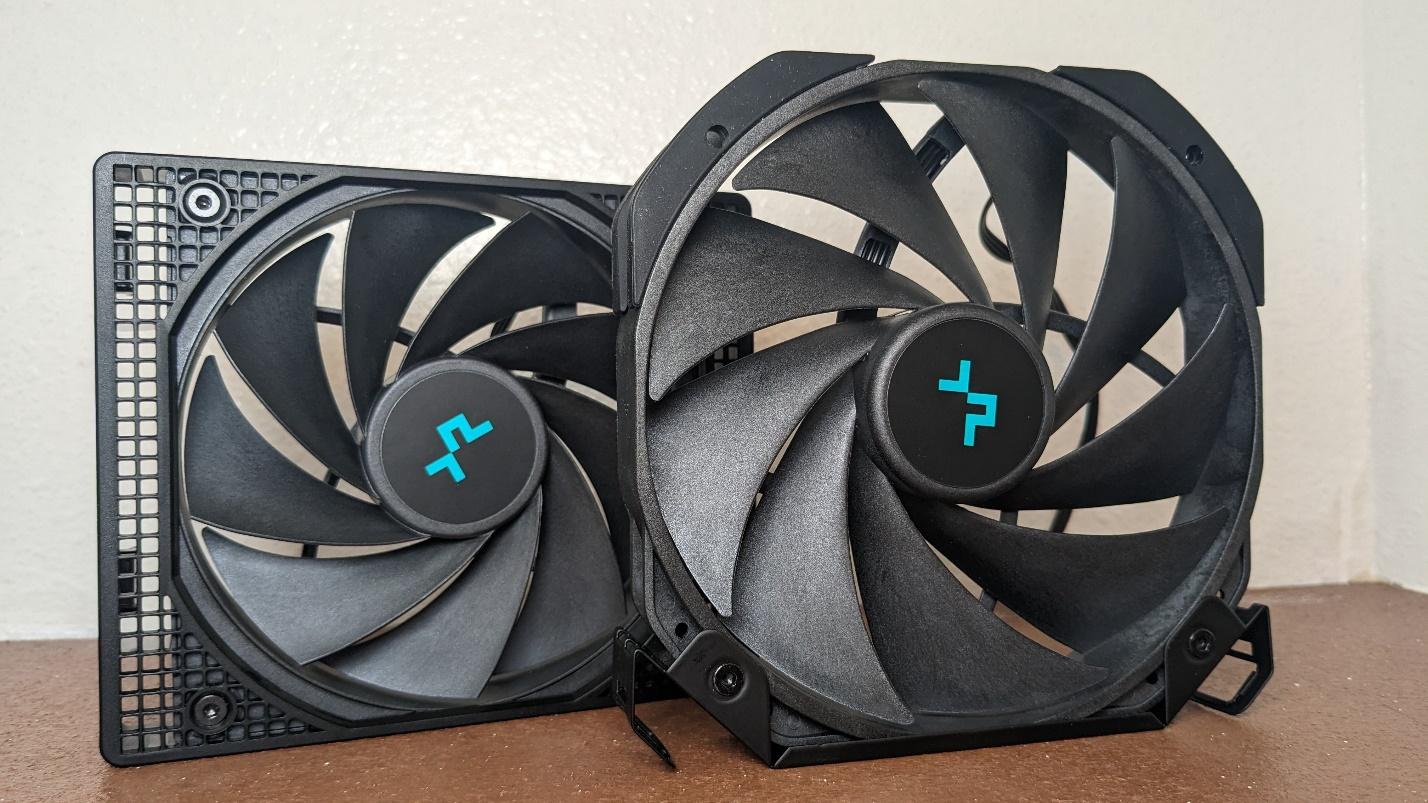 Swipe to scroll horizontally
| | |
| --- | --- |
| Model | FDB |
| Dimensions | 140 x 140 x 25 mm |
|   | 120 x 120 x 25 mm |
| Fan Speed | 500-1700 RPM ± 10% |
| Air Flow | 140mm Fan: 79.1 CFM (Max) |
|   | 120mm Fan: 58.06 CFM (Max) |
| Air Pressure | 140mm Fan: 2.44 mmAq |
|   | 120mm Fan: 2.1 mmAq |
| Bearing Type | Fluid Dynamic Bearing |
| Motor | 6-pole fan motor |
| Lighting | None |
Seven Staggered Heatpipes, Precision-Machined Convex Copper Base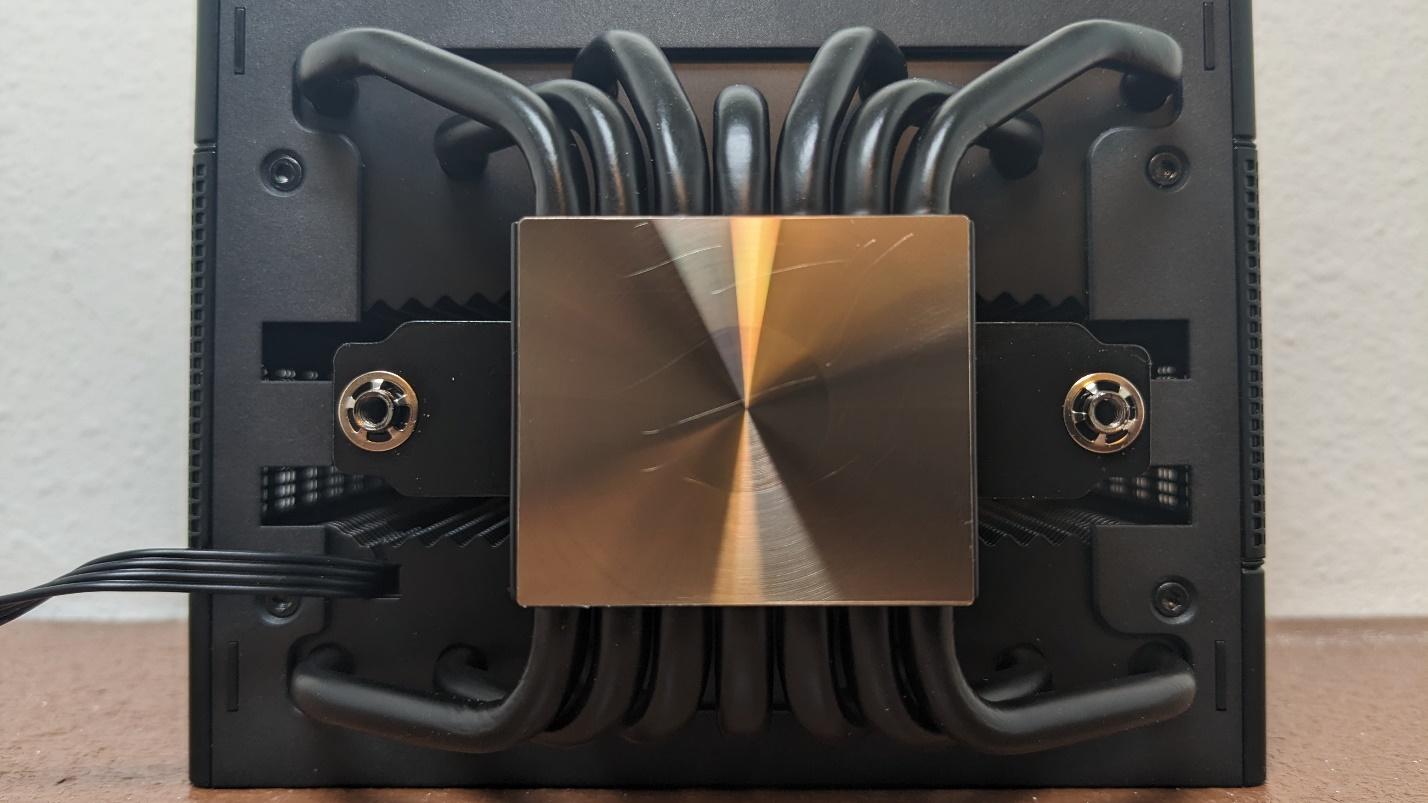 The Assassin IV includes seven 6mm heatpipes spread across two heatsinks. The first heatsink is smaller, with the heatpipes arranged in a uniform order. The second heatsink is larger, with heatpipes staggered for optimal heat dissipation.
DM9 Industrial Grade Thermal Paste
The heatsink and the fans aren't the only things that impact cooling. The thermal paste included also has an impact on a cooler's operation. DeepCool includes its DM9 Industrial Level thermal paste with the Assassin IV, along with cleaning wipes and a thermal paste spread tool. The paste is said to be composed of a highly stable silicon resin compound which is not electrically conductive nor capacitive – avoiding the problems posed with liquid metal.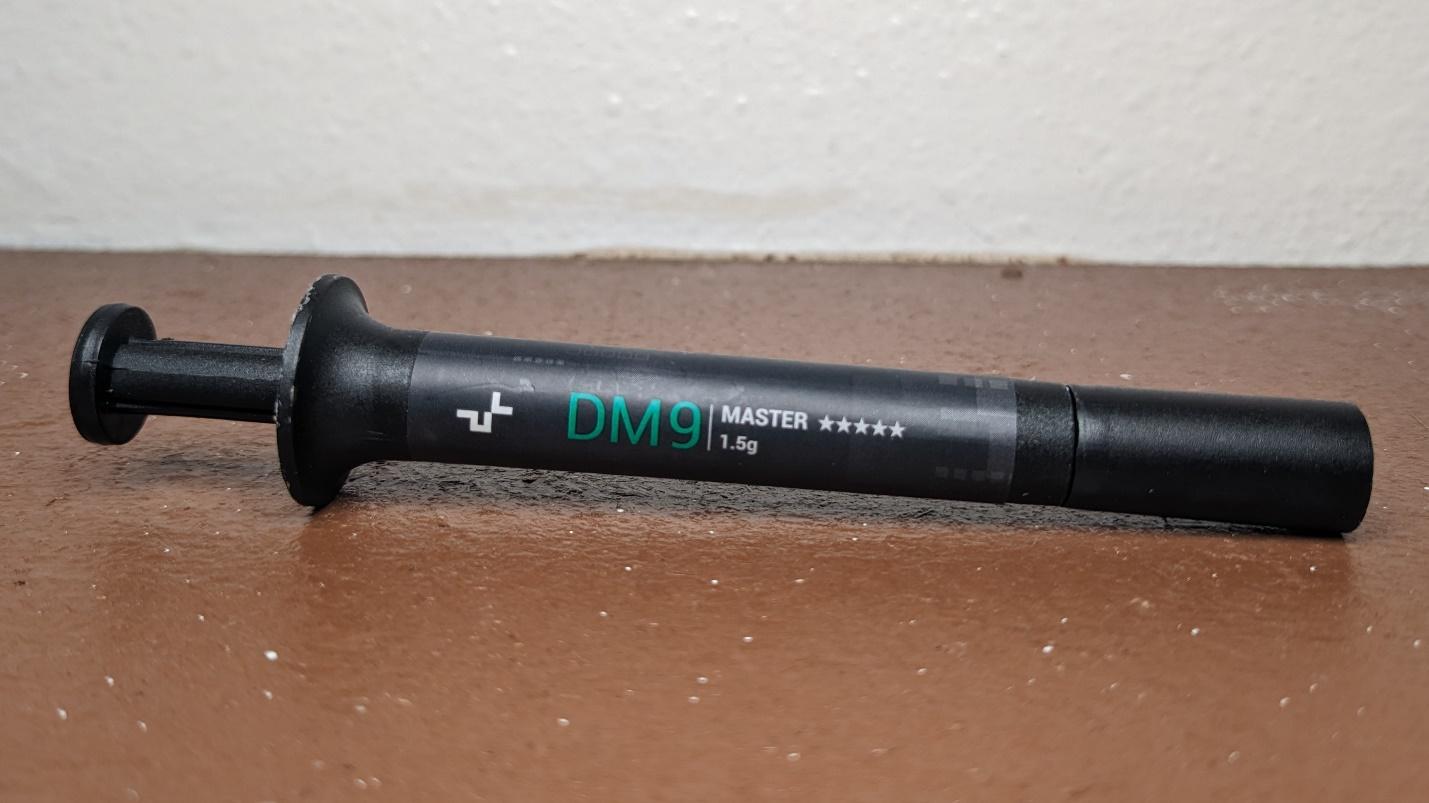 Testing
Modern CPUs, whether Intel or AMD, are difficult to cool in intensive workloads. In the past reaching 95C+ on a desktop CPU might have been a cause for concern – but with today's high-end CPUs, this is considered normal operation. Similar behavior has been present in laptops for years due to cooling limitations in tight spaces. 
Since last fall, Tom's Hardware has brought you cooling reviews using one of the most power-hungry desktop CPUs on the market – Intel's flagship i9-13900K. To give you an idea of what it takes to cool Intel's behemoth, we've tested it with a variety of coolers from entry level low-end air coolers like the Amazon Basics CPU cooler, to high-end 420mm AIOs such as Corsair's iCUE H170i Elite.
While it's nice to see how Intel's flagship responds to different levels of cooling, those results don't always correlate with lower-tier CPUs. Today's review features two lower-end (though still powerful) CPUs  – AMD's Ryzen 7 7700X and Intel's i7-13700K.
Testing Methodology
All testing is performed with a 23C ambient room temperature. Multiple thermal tests are run on each CPU to test the cooler in a variety of conditions, and acoustic measurements are taken with each result. These tests include:
1. Noise-normalized testing at low noise levels
2. Out-of-the-box/Default Configuration thermal & acoustics testing
     a. This means no power limits on Intel's i7-13700K, and AMD's default power limits on AMD's Ryzen 7 7700X.
     b. Because CPUs hit Tjmax in this scenario, the best way to compare cooling strength is by recording the total CPU package power consumption.
3. Thermal & Acoustics testing in Power Limited Scenarios
    a. With Ryzen 7 7700X, I've tested with limits of 95W and 75W enforced.
    b. On Intel's i7-13700K, I've tested with limits of 175W and 125W enforced.
The thermal results included are for a 10-minute testing runs. To be sure that was sufficiently long to tax the cooler, we tested both Thermalright's Assassin X 120 R SE and DeepCool's LT720 with a 30-minute Cinebench test with Intel's i9-13900K for both 10 minutes and 30 minutes. The results didn't change much at all with the longer test: The average clock speeds maintained dropped by 29 MHz on DeepCool's LT720 and 31 MHz on Thermalright's Assassin X 120 R SE. That's an incredibly small 0.6% difference in clock speeds maintained, a margin of error difference that tells us that the 10-minute tests are indeed long enough to properly test the coolers.
Testing Configuration – Intel LGA1700 Platform
Swipe to scroll horizontally
| | |
| --- | --- |
| CPU | Intel Core i7-13900K |
| Air Coolers Tested | Cooler Master Master Air MA824 Stealth |
|   | DeepCool Assassin IV |
|   | Jiushark JF13K Diamond |
|   | Thermalright Silver Soul 135 |
|   | Thermalright Peerless Assassin |
|   | Montech D24 Premium |
|   | Noctua NH-D15S |
| Motherboard | MSI Z690 A Pro DDR4  |
| GPU | Intel ARC A770 LE |
| Case | Be Quiet! Silent Base 802, system fans set to speed 1 setting.  |
| Monitor | LG 45GR95QE |
| PSU | Cooler Master XG Plus 850 Platinum PSU |
Testing Configuration – AMD AM5 Platform
Swipe to scroll horizontally
| | |
| --- | --- |
| CPU | AMD Ryzen 7 7700X |
| Air Coolers Tested | Cooler Master Master Air MA824 Stealth |
|   | DeepCool Assassin IV |
|   | Jiushark JF13K Diamond |
|   | Thermalright Silver Soul 135 |
|   | Thermalright Peerless Assassin |
|   | Montech D24 Premium |
|   | Noctua NH-D15S |
| Motherboard | ASRock B650E Taichi  |
| GPU | Intel ARC A770 LE |
| Case | DeepCool CK560WH |
| Monitor | LG 45GR95QE |
| PSU | DeepCool PQ1000M |