Refresh
Asus Targets Keyboard Modders with Latest Clacker
When it comes to keyboards, there are three kinds of people: those who will use any $10 pack-in keyboard without complaint, those who want one of the best gaming keyboards (opens in new tab) and those who want to build or modify their own keyboards. Asus's ROG gaming brand has released some noteworthy gaming keyboards in recent years, including the ROG Strix Flare II Animate (opens in new tab)and ROG Strix Scope RX (opens in new tab). Now, the company is targeting keyboard modders with its ROG Azoth wireless keyboard.
Due later this month for a pricey $250, the ROG Azoth is a 75-percent wireless keyboard with a silicone gasket mount, pre-lubricated switches and a three layer dampening structure that includes a silicon foam-lined base, a Poron pad and a silicone pad. Designed to increase stability and limit ping noises, these are features that many enthusiasts build into their custom keyboards or expect from high-end mechanical keyboards.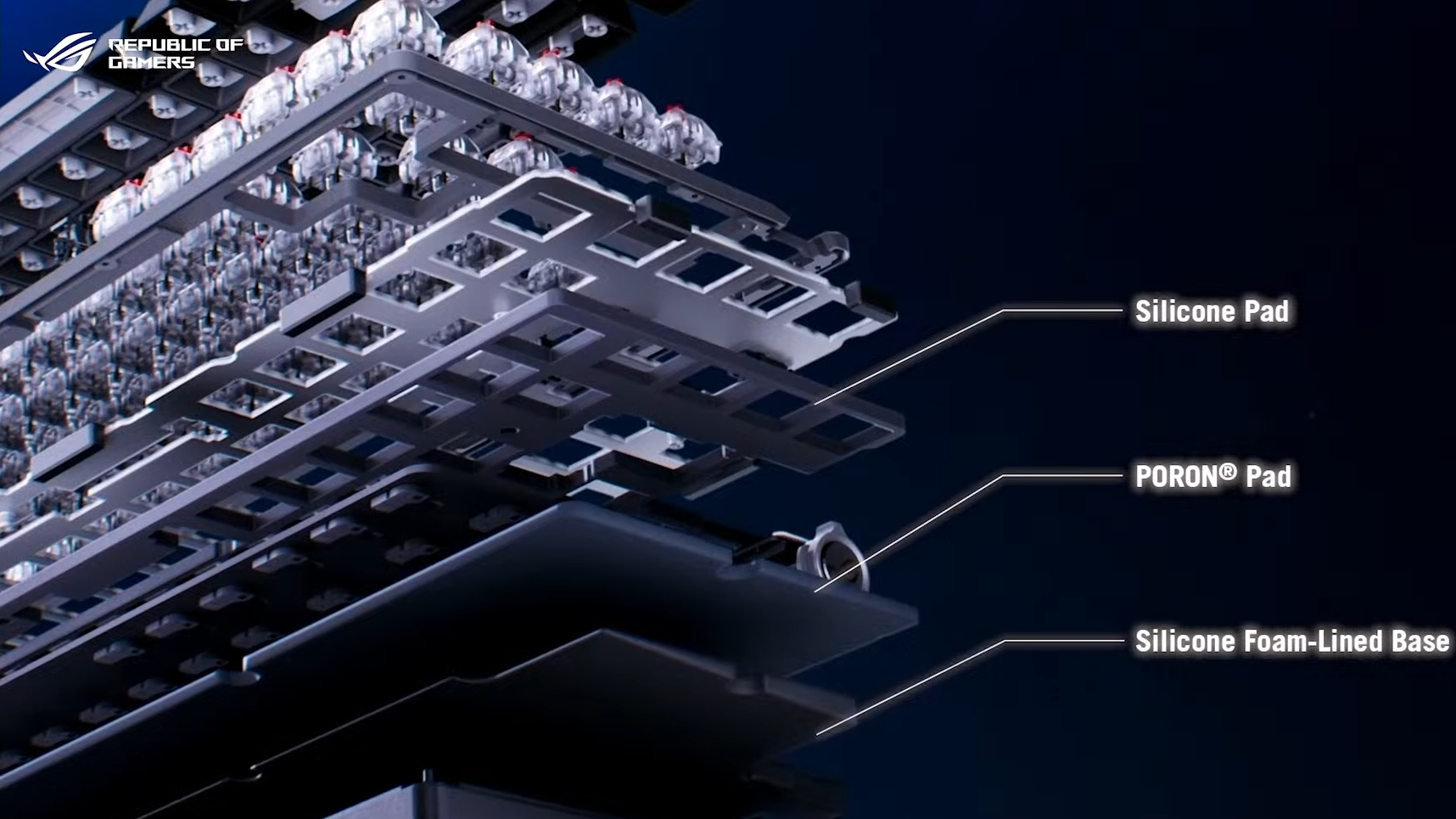 If you don't like Asus's own NX Switches (available in red, brown and blue), you can hot swap them out. And, if they aren't lubed to your liking, you can use the included switch lubing kit which has Krytox GPL-205-GDO lube and a switch opener.
The keyboard is compatbile with costar stabilizers if you want to switch out your stabs to change the feel. Its keycaps are PBT, double-shots with shortened stems that are designed to reduce key wobble. The legends are transparent so they can let the RGB lighting through.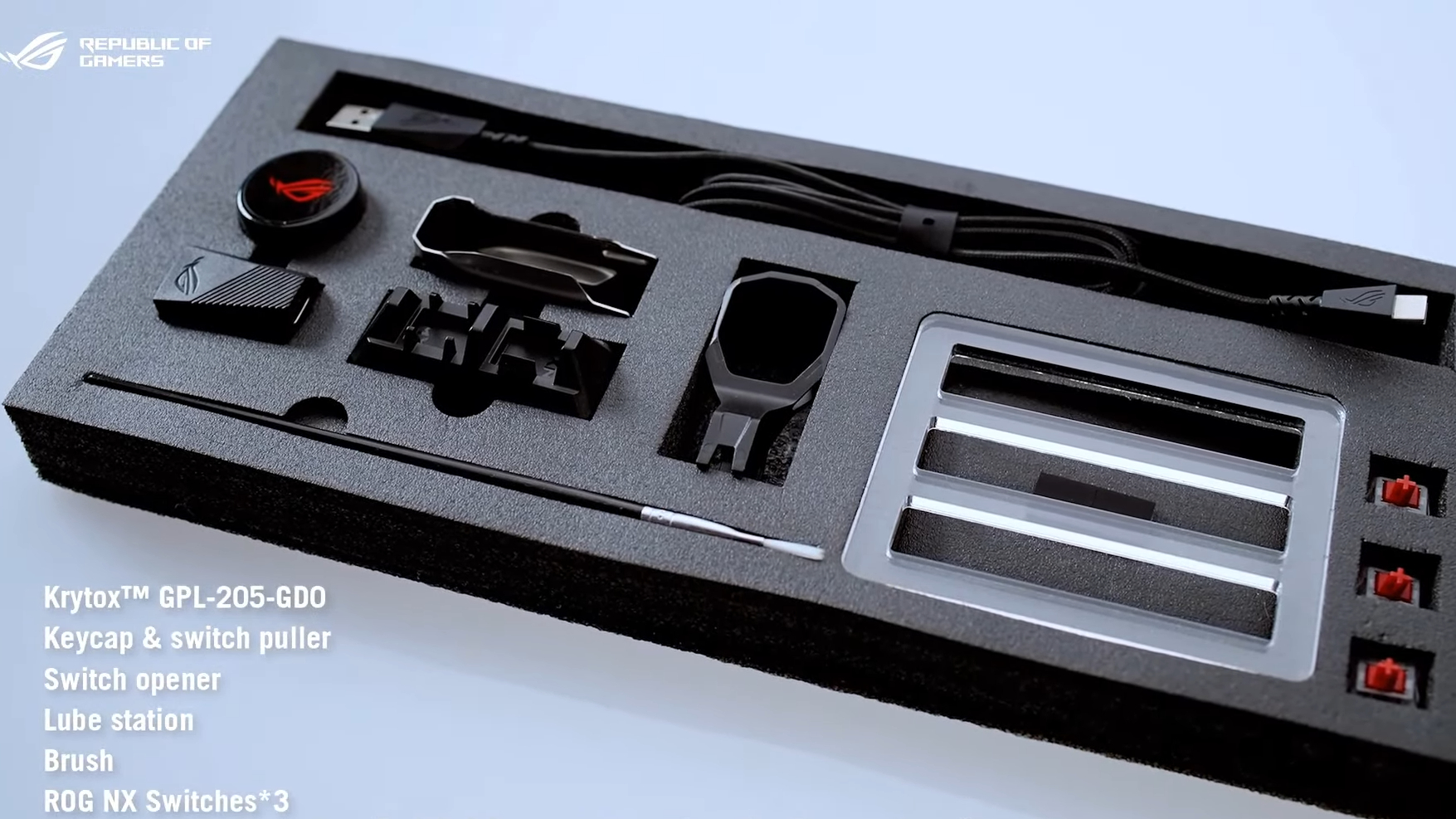 The Azoth also has a built-in LED screen in its upper right corner, which can show custom animations or give you status updates on the wireless connectivity or battery life. A dial to the right of the LED screen lets you change modes or you can do so via Asus's Armoury Crate software.
The Azoth can connect to your PC in one of three ways: via wired USB-C, via 2.4-GHz wireless or via Bluetooth. There are three different Bluetooth profiles so you can switch among multiple computers.
We haven't had a chance to test out the Azoth in person, though we hope to get some hands-on time with it or perhaps to do a review in the near future. With this keyboard, it's clear that features such as switch lubing and case dampening are moving from the high-end, DIY kits to mainstream gaming keyboards. That's a good thing for everyone.
The Quiet Before the Storm? Not Quite.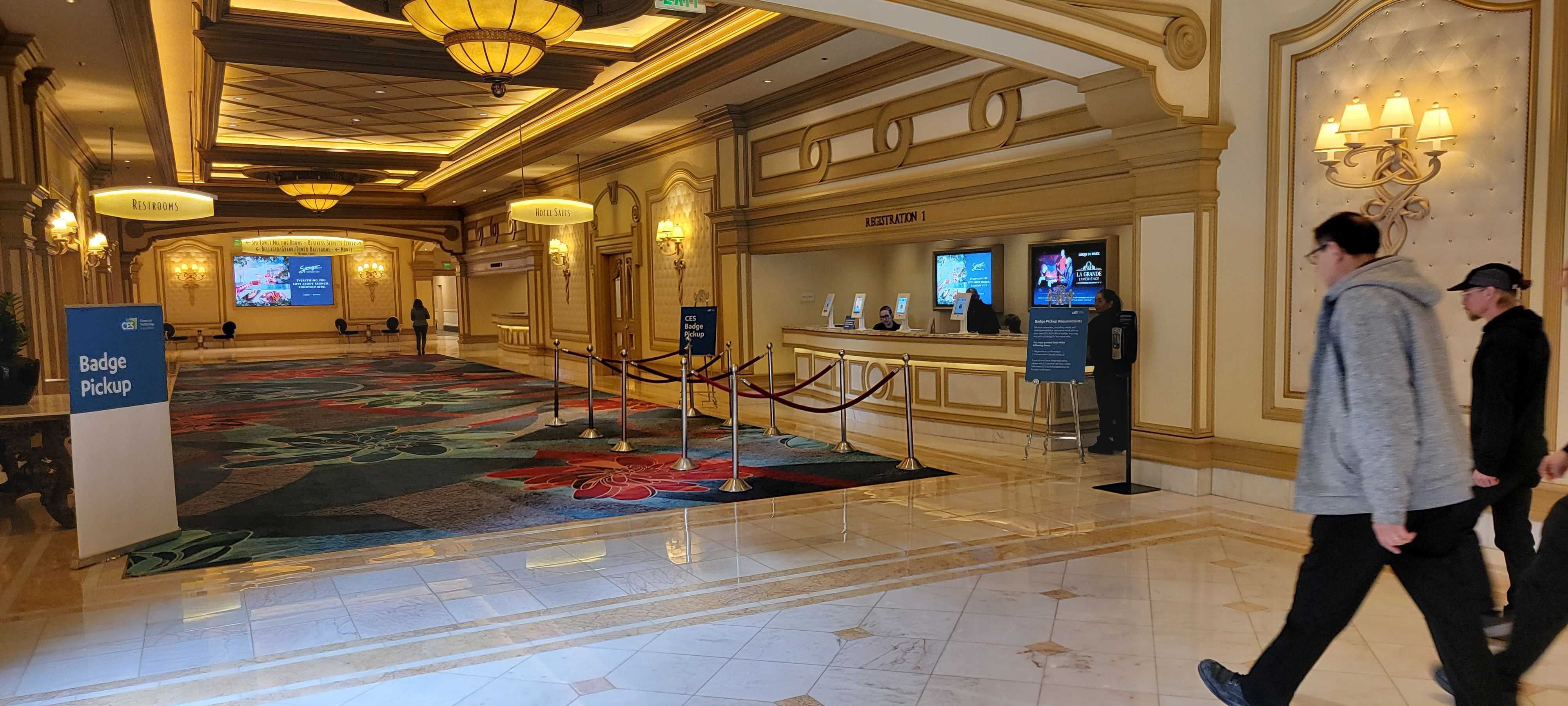 CES's first day of exhibits is Thursday and the official press day is Wednesday so you might expect today (Tuesday) to be a dead time. In fact, when Tom's Hardware Deputy Managing Editor Paul Alcorn went to pick up his badge, he snapped this picture of a basically empty line.
However, today is also a day when a number of major press announcements rolled out that are going to have a real impact on the market and your next PC build. Nvidia  made the RTX 4070 Ti official (opens in new tab), giving it an MSRP of $799 while also announcing a full series of RTX 4000 series cards for laptops (opens in new tab) that range from a 4090 to a 4050. 
Intel also launched its 13th Gen mobile CPUs (opens in new tab) , along with 16 new, locked desktop Raptor Lake chips (opens in new tab) that range from the Core i3-13100 on the low end to Core i9-13900 on the high end.
To take advantage of the new mobile CPUs and GPUs, we've seen laptop announcements from Asus (opens in new tab), Acer (opens in new tab) and Dell / Alienware (opens in new tab).  All of these launches were expected as we usually see Intel and Nvidia roll out chips at CES while PC vendors immediately incorporate the chips into new computers.
What's on tap for the rest of today? At 5 pm PT, CES Unveiled — an expo where companies show their new wares to journalists — starts. We'll be there to take a peek and see if we see anything new and noteworthy. Often, Unveiled isn't very interesting for us, because it doesn't have a lot of PC or enthusiast tech exhibitors. But we'll see.