AMD has released a new graphics driver which fixes high idle power issues observed by Radeon RX 7000 users. AMD Software: Adrenalin Edition 23.7.1, which supports graphics cards from the Radeon RX 400 Series and newer, addresses an unusual high-power usage case in Windows, but at this stage we aren't sure if it has covered all incidences.
We first reported on the headlining high idle power on RDNA 3 cards issue last December. In our story about a fix for RX 7900 XT(X) power consumption – particularly addressing video playback efficiency on these powerful cards – we welcomed the driver update. However, that driver release came with AMD's first admission that "high idle power has situationally been observed when using select high resolution and high refresh rate displays." It turns out his bug affects the whole RX 7000 family, which has only recently grown beyond the high-end with the release of the Radeon RX 7600.
The release notes features a bullet point which provides the scope of the idle power fix provided by the Adrenalin Edition 23.7.1 driver. We are sure this fix will be warmly welcomed by users of AMD's newest architecture, as it should reduce the amount of wasted electricity.
Other RDNA 3 architecture bug fixes in this latest Radeon driver include one which causes suboptimal performance or occasional stuttering in VR games and applications. An RX 7900 XTX specific fix has also been implemented to eliminate intermittent corruption when playing WWE 2K23.
The last two fixes are for a wider audience. A crashing and driver timeout issue which annoyed DaVinci Resolve Studio users has been quashed. Lastly, intermittent corruption observed when switching windows while playing Nioh 2 has been fixed. AMD mentions this Nioh 2 bug affected multiple Radeon products including the RX 6800 XT.
There is only one new feature mentioned by the official Adrenalin Edition 23.7.1 release notes. AMD has implemented support for additional Vulkan extensions. If any of your favorite games / apps use the Vulkan API you may appreciate these additions.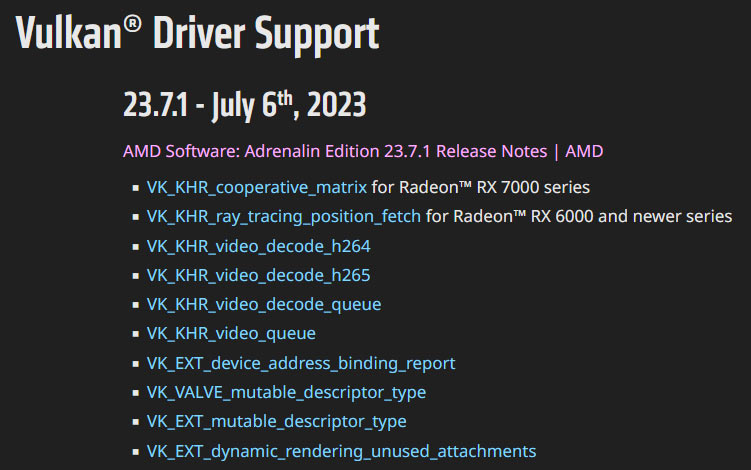 AMD's list of remaining known issues outguns the list of fixes, but at least we know the red team developers are working on these specific annoying wrinkles.
Lastly, we must note that AMD has temporarily disabled the 'Factory Reset' driver install feature. Back in March, we reported on the bricked Windows installs that this driver install option was precipitating. There is a workaround for now; AMD recommends users run its AMD Cleanup Utility if they want / need to start afresh.